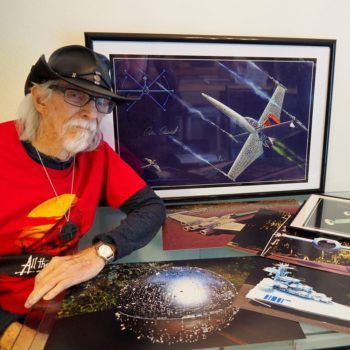 Meet Colin Cantwell, designer for ideas like the Death Star, Tie Fighters, and many other unforgettable movie concepts here at Destiny City Comics and King's Books!
We'll be having a special meet and greet at the comic shop followed by a presentation at the book store on Saturday, August 25, 2018 from 3:00 to 6:00 PM.
Colin will be offering his autograph for $25. This can be on an item a fan brings – or – it includes either a free 8×12 print of either his original 1974 Star Wars concept art (see colincantwell.com for pictures) or a picture of his original Star Wars models. A $35 purchase includes a selfie ($10 value) and a his signature on free large 12×18 print of either kind.
If you are interested in a print or photo, Colin will charge for his signature and the print/photo will be included at no extra cost.
Destiny City Comics
218 St Helens Ave, Tacoma, WA 98402
(253) 234-7112