Press Release: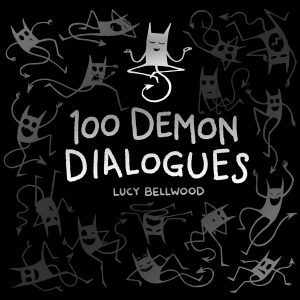 Heads up, San Jose! Cartoonist Lucy Bellwood is bringing her heartfelt, humorous collection of comics about Imposter Syndrome and the creative process to your fine, fine city. Stop by Local Color this Saturday July 28th at 6:00 PM for a presentation and signing of 100 DEMON DIALOGUES, then stick around for Mighty Mike McGee's Spelling Bee/r immediately after. It's going to be a roaring good time. Copies of the book (and adorable Inner Critic plushies) will be available for sale at the event, with a percentage of sales going to support Causa Justa :: Just Cause.
About the Book: 100 Demon Dialogues traces Bellwood's changing relationship with her Inner Critic over the course of 100 consecutive days. After connecting with thousands of readers online, she's taking the book on the road to hear your stories of living with imposter syndrome. If you've ever felt like you're a fake or a failure, this collection is guaranteed to make you feel less alone. Learn more at 100demondialogues.com
About Lucy: Lucy Bellwood is a professional Adventure Cartoonist based in Portland, OR. As an outspoken advocate for transparency in creative careers, Lucy has presented on subjects like following an independent path, the finances of freelancing, and working with imposter syndrome at events and institutions around the globe. Her latest collection takes a hilarious, humanizing look at what it's really like to persevere when our Inner Critics are trying to take the wheel. She is a member of Helioscope, the largest collective of freelance comics professionals in North America, where she spearheads the studio's Mentorship Program.
Local Color
27 South First St, San Jose, CA 95113