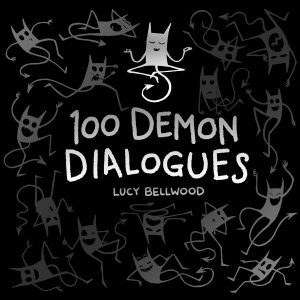 Cartoonist Lucy Bellwood appears at Bart's Books on Friday, August 3, 2018 at 7:00 PM to celebrate the release of her new book, 100 Demon Dialogues!
100 Demon Dialogues is a collection of comics for anyone who wants to talk back to the little voice in their head that says "You're no good." In each panel, Lucy is beset by a tiny, petulant demon who embodies workaholism, imposter syndrome, and fear of missing out. From overcoming self-doubt to prioritizing self-care, Bellwood and her demon embody a hilarious and relatable partnership that will resonate with people from all walks of life.
Lucy Bellwood is a professional cartoonist and illustrator based in Portland, OR. As an outspoken advocate for transparency in creative careers, Lucy has presented on subjects like following an independent path, the finances of freelancing, and working with imposter syndrome at events and institutions around the globe. Her latest collection takes a hilarious, humanizing look at what it's really like to persevere when our Inner Critics are trying to take the wheel. She is a member of Helioscope, the largest collective of freelance comics professionals in North America, where she spearheads the studio's Mentorship Program.
Bart's Books
302 W Matilija St, Ojai, California 93023
(805) 646-3755