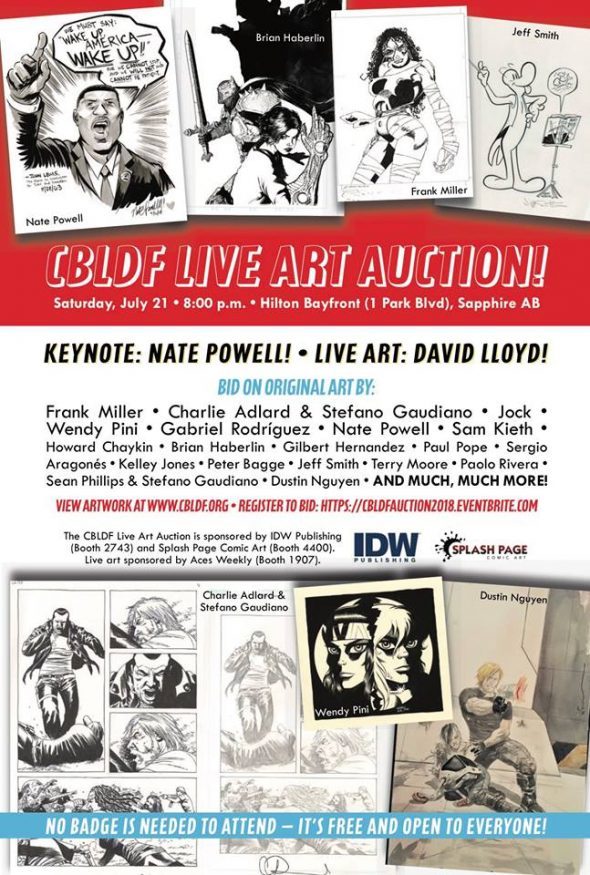 Press Release:
Join Nate Powell, David Lloyd, IDW Publishing, and Splash Page Comic Art to support Comic Book Legal Defense Fund's Comic-Con Auction, happening Saturday, July 21, at the Hilton Bayfront Sapphire AB. Details at the link…
The event kicks off at 8:00 p.m. with a keynote by Nate Powell, artist of the March trilogy and the new graphic novel Come Again. David Lloyd, acclaimed artist of V For Vendetta will be on hand creating live art that will be auctioned off at the end of the night, courtesy of Aces Weekly!
Bid on original art including work by Frank Miller, Charlie Adlard, Sergio Aragones, Howard Chaykin, Tess Fowler, Jock, Sam Kieth, Terry Moore, Wendy Pini, Nate Powell, Gabriel Rodriguez, Jeff Smith, Goran Sudzuka, and many more, plus scripts, prints and memorabilia from creators including Neil Gaiman, Emil Ferris, Barry Windsor-Smith, and more! For the full auction list, bidder registration and more, please visit: cbldfauction2018.eventbrite.com
This auction is open to all — NO SDCC BADGE REQUIRED! This is a great opportunity to support those in the comic book industry & bid on some really cool art! NO SDCC badge required!
If you are unavailable for the live auction, but still interested in bidding, please send a list of the pieces you are interested in with the HIGHEST donation you would be willing to bid. If the high bid on the auction floor is below your highest bid, your final bid will be 10% higher than the last highest bid on the floor.
Your bids should be delivered to auctions@cbldf.org by 3:00 p.m. PACIFIC TIME July 21 to be eligible. You will be contacted immediately after the auction with any winning bids.please visit: cbldfauction2018.eventbrite.com