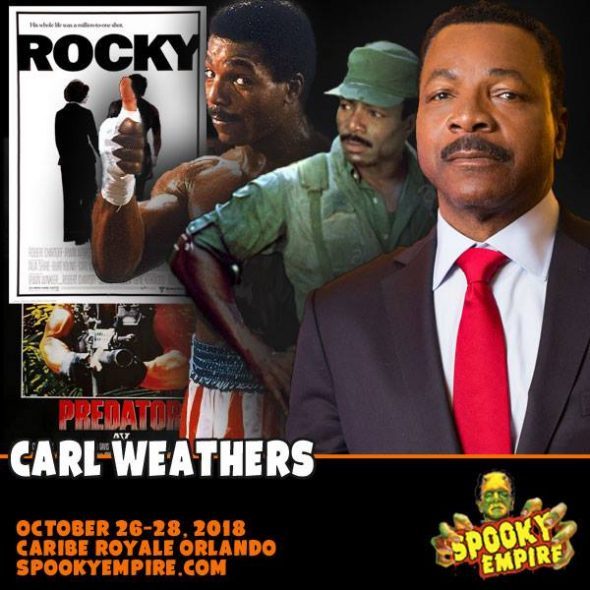 And in this corner it's…the dancing destroyer, the king of sting, the Count of Monte Cristo, the master of disaster, the one, the only, Apollo Creed!
Spooky Empire welcomes The One and Only CARL WEATHERS to Orlando, FL this October!
CARL WEATHERS is best known for his roles as "Apollo Creed" in ROCKY films 1-4, "Dillon" in PREDATOR, star of ACTION JACKSON, and who can forget the one handed "Chubbs" in HAPPY GILMORE. He's also starred in ASSAULT ON DEVIL'S ISLAND, LITTLE NICKY, THE COMEBACKS, SHERIFF TOM vs THE ZOMBIES, voiced "Combat Carl" in TOY STORY OF TERROR, plus TV shows like COLONY, BROTHERS, ARRESTED DEVELOPMENT, CHICAGO JUSTICE, IN THE HEAT OF THE NIGHT, TOUR OF DUTY, STREET JUSTICE, STAR vs THE FORCES OF EVIL and so many more! Even a small part in CLOSE ENCOUNTERS OF THE THIRD KIND!
Don't miss out on this amazing, rare opportunity to meet CARL WEATHERS at Spooky Empire, all weekend long!
Tickets, VIP packages and hotel rooms are available now, but moving quickly, at spookyempire.com