Press Release: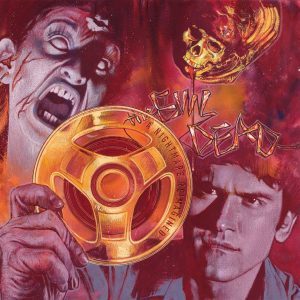 Composer Joe LoDuca conducts a live quintet performing selections from Evil Dead – A Nightmare Reimagined double LP release on Thursday, July 26 at 6 PM!
Celebrating the release of Evil Dead – A Nightmare Reimagined double LP on Mondo. Special limited-edition red vinyl will be available for purchase starting July 26th at Amoeba. Performance is free/all ages.
To attend signing/meet Joe:
Purchase your copy of Evil Dead – A Nightmare Reimagined at Amoeba Hollywood on July 26th.
Limit 1 per person.
Quantities are limited, while supplies last.
No phone or online pre-orders available for this special event.
One of the most legendary horror scores ever gets recorded & reinvented for 2018. Joe LoDuca went back to the drawing board to fully re-record and expand his original score to The Evil Dead with absolutely terrifying results. The record you hold in your hands manages to keep the essence and familiarity of the original score yet feels completely new and exciting due to the addition of all new music combining the classic and the contemporary.
All new artwork by original Evil Dead Poster artist Graham Humphreys. Pressed on 2 x 180g Naturum De Montum vinyl, Necronomicon booklet containing liner notes from Composer Joe LoDuca, Producer Robert Tapert & Star Bruce Campbell. Download card included.
"EVIL DEAD was my first film commission. As fate would have it, this is the movie that has the most enduring impact on generations of fans. Every few years I get a request to release the score, and my response is the same. I own the score, but not the recording rights. So when I was last approached to reissue the score, I asked myself this question: Knowing what I now know, how would I write for that ensemble today? I am happy that I did.Welcome to my nightmare: reimagined." – Joe LoDuca
Growing up in the rich culture of rock, jazz and classical music in Detroit, along with studies in comparative literature, Joseph LoDuca wasn't aware he was prepping for a career composing for film.
The two- time Emmy Award winner is no stranger to large orchestral action/adventures, fantasies and thrillers. Joseph's extensive scores for television are highlighted by Xena: Warrior Princess (Emmy winner), Legend of the Seeker (Emmy winner), and Hercules: The Legendary Journeys.
His international projects include Brotherhood of the Wolf (César nominee for Best Score) and Patagonia (directed by Marc Evans), which was chosen as the 2012 British entry for the Foreign Language Oscar. The project featured song collaborations with pop artist Duffy and operatic baritone Bryn Terfel.
His multifaceted catalogue is marked by operettas, musicals and theme songs, which have earned him five of his twelve Emmy nominations. Recently, he has conducted suites of his music at the Tenerife Filmucite Festival and with the Golden State Pops Orchestra.
LoDuca also composed the music for Turner Network Television's Leverage (for Dean Devlin) director Sam Raimi's Evil Dead Trilogy, and the Starz Entertainment series Spartacus (produced by Raimi/Tapert/Donen and Steven DeKnight). In 2017, his broadcast and theatrical work consisted of Season 4 of TNT's The Librarians, Season 3 of Ash v. Evil Dead for Starz, and Disjointed, a Netflix sitcom (David Javerbaum, Chuck Lorre); two feature films–Bad Samaritan (Dean Devlin), Cult of Chucky (Don Mancini); and Pleasuredome, an 80's-themed musical.
He sums it all up: "I understand story and how to create a language of music in film. The sounds and structures I discover when I work closely with a director are what constantly surprise and inspire me."
Amoeba Music
6400 Sunset Blvd, Los Angeles, CA 90028
(323) 245-6400