Press Release: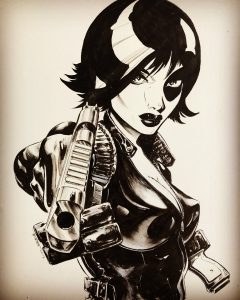 Splash Page Comic Art is setting up at Booth #4400 at Comic-Con International in San Diego on July 19th – 22nd.
We are taking pre-orders for Brian Thies artist of AVP, inker on Winter Soldier and recently X-O Manowar. In addition to pre-orders, he'll be at my booth Preview night Wed (when most artists aren't at the show yet) sketching. He should also be there most of the time.
Brian Thies Art will be drawing:
8 x 10″ head sketches start at $75
9 x 12″ bust for $125 and 3/4 Figure starting at $150 (This includes Blank Sketch Covers in this size slot)
11 x 17″ full figure starting at $300
Additional characters are $75 each.
Optional backgrounds are $150 The DOMINO piece is an example of a 9×12″ Bust piece.
You can email me through the Contact page on my website or message me.
Tim Bradstreet, cover artist of Punisher, Hellblazer, Jennifer Blood, Pestilence and a million more will be appearing and signing at our booth throughout the show. Details will be added closer to the show.
In addition to Brian Thies being there, I'm bringing an entire portfolio or pre-done sketches and full commissions by a variety of artists that I rep, used to rep, and other items out of my personal collection. (including $75-100 Charlie Adlard Walking Dead sketches). Some of these can already be seen on the website, other items are brand new and not up.
I'll also be bringing published originals from a variety of guys I represent, but if you want to make sure something is there, please contact me now to get it included in my shipment that I'm making early this coming week.
This isn't a great picture of the misc sketches, but here's several of the items coming. See you all soon.
Mark Hay SplashPageArt.Com