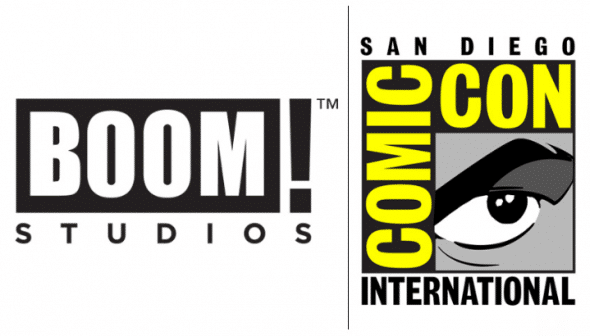 Press Release:
BOOM! Studios Announces 2018 Comic-con International: San Diego Panel Programming
LOS ANGELES, CA (June 29, 2018) – BOOM! Studios announced today its panel programming and schedule for 2018 Comic-Con International: San Diego, to be held July 18-22 at the San Diego Convention Center in San Diego, CA.
The publisher will once again occupy booth #2229, one of the most prominent positions on the convention floor, bringing with them special guests including a WWE Superstar, former Power Rangers and diverse lineup of talent from BOOM! Studios award-winning graphic fiction lineup.
Programming Schedule
Thursday, 7/19
12:00-1:00 Entertainment is LGBTQ – BOOM! Studios and GLAAD present an in-depth roundtable discussion about LGBTQ representation in pop culture and the path forward to a brighter, more inclusive future, with special guests from all corners of the entertainment world including Emily Andras (Executive Producer and Showrunner of Wynonna Earp), Lilah Sturges (Lumberjanes: The Infernal Compass), Marguerite Bennett (Mighty Morphin Power Rangers), Noah Hayes (Wet Hot American Summer) and more. Moderated by Megan Townsend (Director of Entertainment Research & Analysis, GLAAD). Room: 28DE
Friday, 7/20
5:00-6:00 The BOOM! Box Summer Mixtape – There's only one place to discover your favorite comics like Lumberjanes, Giant Days, Fence, The Backstagers and more – it's the BOOM! Box imprint of BOOM! Studios. Join Lilah Sturges (Lumberjanes: The Infernal Compass), Jackie Ball (Goldie Vance),  Brooklyn Allen (Lumberjanes co-creator), Mariko Tamaki (Lumberjanes novels), Josh Trujillo (Dodge City), Sarah Kuhn (Clueless) and more of the exciting creators that bring you the most acclaimed progressive YA comics in the industry for a discussion about what's next for the imprint that launched a movement in the world of graphic fiction! Moderated by Mey Rude (Autostraddle.com). Room: 32AB
Saturday, 7/21 
12:30-1:30 BOOM! Studios: Discover Yours – Discover your new comic book obsession at Comic-Con—and we guarantee you're going to find it at this panel! Join Kat Leyh (Lumberjanes),  Marguerite Bennett (Mighty Morphin Power Rangers) Ryan Parrott (Saban's Go Go Power Rangers), Delilah S. Dawson (Ladycastle), Tyler Jenkins (Black Badge), Phillip Kennedy Johnson (Low Road West), author CB Lee, and Matt Gagnon(Editor in Chief, BOOM! Studios) for a jam-packed, interactive panel featuring the most acclaimed creators in comics as they discuss the diverse imprints of BOOM! Studios, Archaia, BOOM! Box and KaBOOM! with surprises for everyone in the audience. Moderated by Filip Sablik (President of Publishing & Marketing, BOOM! Studios). Room: 24ABC
For news on BOOM! Studios, stay tuned to www.boom-studios.com and follow @boomstudios on Twitter.
---
About BOOM! Studios
BOOM! Studios was founded by Ross Richie in 2005 with the singular focus of creating world-class comic book and graphic novel storytelling for all audiences. Through the development of four distinct imprints—BOOM! Studios, BOOM! Box, KaBOOM!, and Archaia—BOOM! has produced award-winning original work, including Lumberjanes, The Woods, Giant Days, Klaus, and Mouse Guard, while also breaking new ground with established licenses such as WWE, Mighty Morphin Power Rangers, Cartoon Network, and The Jim Henson Company properties. BOOM! will also bring their original series to life through unique first-look relationships with 20th Century Fox for film and with 20th Television for the small screen. Please visit www.boom-studios.com for more information.
Web: www.boom-studios.com
Twitter: @boomstudios
Facebook: @BOOMStudiosComics
Instagram: @boom_studios
Tumblr: boomstudios.tumblr.com