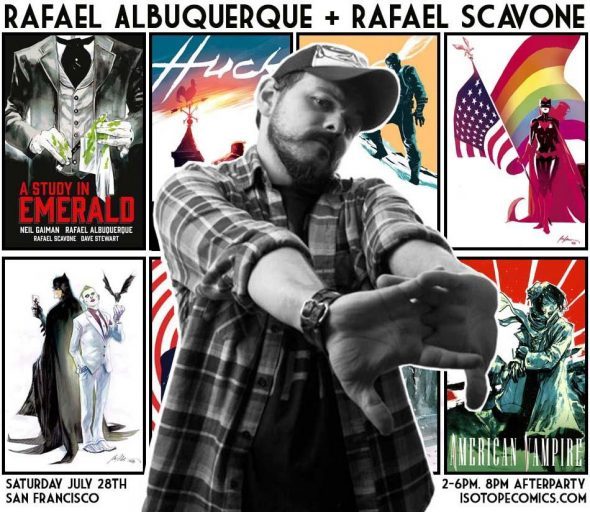 Press Release:
Isotope proudly presents a very special day-long event with Rafael Albuquerque & Rafael Scavone, the Brazilian comic superstar duo behind the adaptation of NEIL GAIMAN'S A STUDY IN EMERALD graphic novel, on Saturday, July 28, 2018!
Rafael Albuquerque's utterly gorgeous art has been one of the most beloved parts of all of our your comic reading for the past few years, from AMERICAN VAMPIRE to BATMAN to HUCK to EI8HT to UNCANNY X-FORCE to TUNE 8 to TALES OF FEAR AGENT to BATGIRL and also so many amazing comic book covers it is mind-blowing.
Rafael Scavone, is the author of ALL STAR BATMAN (with Scott Snyder), WONDER WOMAN 75TH ANNIVERSARY SPECIAL, a heart-wrenching story in WHERE WE LIVE: A BENEFIT FOR THE SURVIVORS IN LAS VEGAS, and an upcoming run on Mark Millar's HIT GIRL. Together with Deb Dorneles, the Rafaels formed Stout Club in 2014, a comic imprint from Brazil that is revolutionizing the South American comics scene.
NEIL GAIMAN'S A STUDY IN EMERALD from Dark Horse Comics is an original comic graphic novel adaption of Neil Gaiman's famous Sherlock Holmes short story that runs our hero, together with his ever-present partner Watson, against the nightmares of H.P. Lovecraft's Cthulhu. Expect full-on Victorian horror, fog-choked London alleyways, horrific labs from St. Bartholomew's Hospital, hallucinogenic terrors in caves of Afghanistan, and something terrible lurking in the shadows of 221b Baker Street. Truly a story that Albuquerque and Scavone were born to tell!
Since these gentlemen are coming so far to visit the comic loving people of San Francisco for the first time, and so few North Americans have gotten the chance to meet them before, we've scheduled a day-long duo of awesome events for your convenience. A great daytime autograph signing session and a late night afterparty as only the Isotope can do!
RAFAEL ALBUQUERQUE & RAFAEL SCAVONE @ ISOTOPE SIGNING
Saturday, July 28th 2018; 2pm – 6pm
All-Ages
The Isotope's intimate afternoon autographing session for our all-ages crowd. Sure, there will be a line for this, but here at the Isotope we've completely redesigned the signing experience to ensure our events are casual, fun, low pressure affairs. If you haven't been to one before we think you'll like the way we do things.
RAFAEL ALBUQUERQUE & RAFAEL SCAVONE @ ISOTOPE AFTERPARTY
Saturday, July 28th 2018; 8pm – Midnight
21+ please
Our late night afterparty features the best comic crowd anywhere on the planet, once-in-a-lifetime bespoke refreshments by master mixologist Kirsten Baldock, and amazing tunes with DJ BEARZBUB to make you smile. These events are the stuff of legend in the comic industry, here's your chance to find out why.
Isotope – The Comic Book Lounge
326 Fell Street, San Francisco, CA 94102
(415) 621-6543