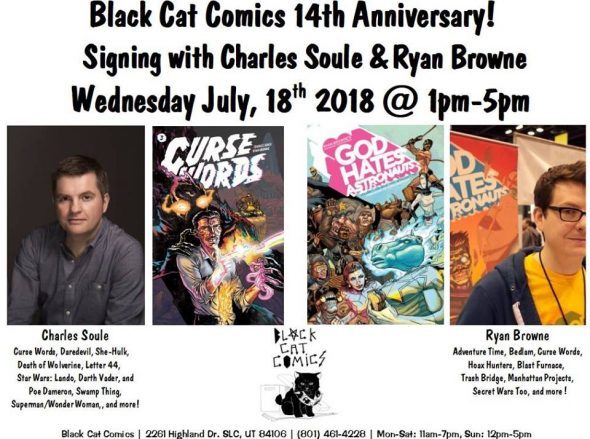 Writer Charles Soule (Daredevil, Letter 44, Poe Dameron) and artist Ryan Browne (God Hates Astronauts)  appear at Black Cat Comics on Wednesday, July 18, 2018 at 1 PM to sing the CURSE WORDS trade from Image Comics.
Charles Soule is a Brooklyn, New York-based novelist, comic book writer, musician, and attorney. While he has worked for DC and other publishers, he is best known for writing Daredevil, She-Hulk, Death of Wolverine, and various Star Wars comics from Marvel Comics (Darth Vader, Poe Dameron, Lando, and more), and his creator-owned series Curse Words from Image Comics (with Ryan Browne) and Letter 44 from Oni Press (with Alberto Jimenez Albuquerque.) His first novel, The Oracle Year, about a man who can see the future and way this ability changes the world, is in stores now!
Ryan Browne is a comic creator, writer, and artist. His comic GOD HATES ASTRONAUTS is a story of superheroes, NASA, farmers, and more jokes per page than any other comic in history (probably), and his current ongoing series with Charles Soule, Curse Words, is a close second. He might be a wizard, but there is no definitive proof… yet.
Black Cat Comics
2261 S Highland Dr, Ste A, Salt Lake City, UT 84106
(801) 461-4228