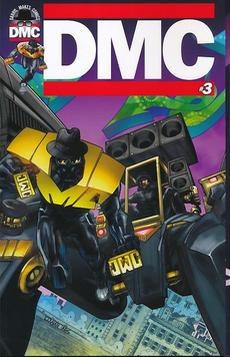 Darryl McDaniels will be signing DMC VOL. 3 at the Forbidden Planet London Megastore on Saturday 30th June from 1:00 – 2:00 PM!
It's 1985 in New York City – and, in this timeline, Darryl McDaniels (Run DMC) never rocks the mic to become one of hip-hop's most enduring icons. Instead, he dons his tracksuit and Adidas sneakers to defend the city's marginalised citizens against super villain and hero alike, leaving no traces besides the imprint of his knuckle rings on his opponents' faces. (By day, though, he teaches junior high school English.)
DMC, out from Darryl Makes Comics, imagines an alternate history that blends traditional comic book storytelling with the pressures and anxieties of 1980's NYC, and explores how we got to where we are now. DMC is a superhero for those who need one most.
Forbidden Planet London Megastore
179 Shaftesbury Avenue, London, WC2H 8JR
0207 420 3666