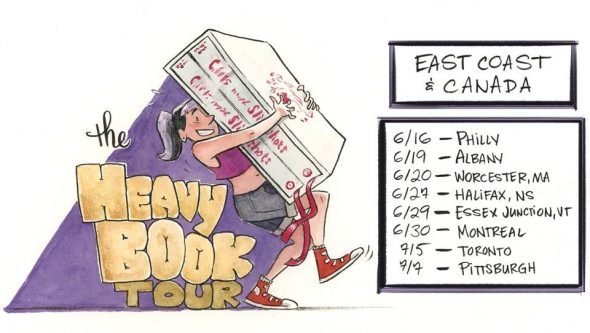 Press Release:
The Beguiling is happy to announce that Danielle Corsetto, creator of the legendary comic GIRLS WITH SLINGSHOTS, will be joining us in our events space for a signing to celebrate the release of THE COMPLETE GIRLS WITH SLINGSHOTS from Iron Circus Comics!
Danielle will be on hand Thursday, July 5th from 5PM until 8PM signing books for fans, and The Beguiling will have copies of the brand-new collection available for purchase!
About Girls With Slingshots:
Danielle Corsetto's Girls with Slingshots debuted in September of 2004, and ran for over 10 years, winning a Reuben Award, publishing thousands of strips, and gaining thousands upon thousands of loyal readers. By the time of the comic's grand finale in March of 2015, GwS was one of the biggest names in online comics, with countless fans visiting daily to read about the lives, loves and adventures of Hazel, Jamie, and their friends.
As the strip's popularity grew, TEN softcover collections were compiled. But after ten years of printing and reprinting, half of the volumes are sold out or hard to find. So, now that GwS has seen its last update, it's time to send this legend of a comic strip off in the collection it deserves.
The Beguiling
319 College Street, Toronto, ON M5T 1S2
416-533-9168