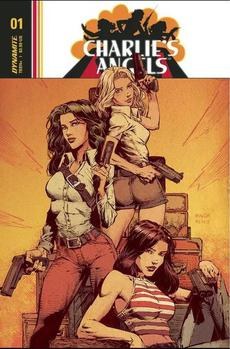 Writer John Layman appears at Forbidden Planet to sign CHEW VOL. 1 and CHARLIE'S ANGELS #1 on Tuesday 10th July.
In CHEW, Tony Chu is a detective with a secret, a weird secret – he's Cibopathic, which means he gets psychic impressions from whatever he eats.
It also means he's a hell of a detective, as long as he doesn't mind nibbling on the corpse of a murder victim to figure out whodunit, and why. He's been brought on by the Special Crimes Division of the Fda, the most powerful law enforcement agency on the planet, to investigate their strangest, sickest, and most bizarre cases.
In CHARLIE'S ANGELS, the Angels are back, baby! The original Angels, Jill, Kelly and Sabrina!
Travel back to the swingin' 70s, and revisit the butt-kicking, crime-fighting, mould-breaking lady detectives who took 70s TV by storm, ready to do the same to comics 40 years later! Break out your bell-bottoms, feather your hair, and jump back to a era of peanut-farmer presidents, gargantuan gas-guzzlers and foxy female detectives for a globe-trotting adventure that's simply too big and epic for the 70s-era boob tube.
Written by elderly Eisner winner and solicitation-writing former-superstar John Layman, and with art by his scrappy but loveable youngster pal, Joe Eisma.
Forbidden Planet London Megastore
179 Shaftesbury Avenue, London, WC2H 8JR
0207 420 3666