Press Release: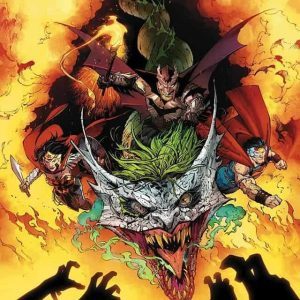 Baltimore Comic-Con, September 28th through the 30th at the Baltimore Convention Center, has added a special Fan Package for fan-favorites Greg Capullo and Scott Snyder, available at our tickets page.
As a part of this Fan Package, each ticket holder will receive:
5 signatures from Capullo
5 signatures from from Snyder
A lithograph (unsigned)
A selfie with both guests
A special 45 minute panel available only to ticket holders
This event, and the associated exclusive panel, takes place on Saturday, September 29th and tickets are only being made available to 200 attendees. Please do not procrastinate on your Fan Package purchase to ensure your slot!
Greg Capullo is a self taught Illustrator, working for the past five years as artist on the New York Times best-selling, highly-acclaimed Batman series for DC Comics. He is presently co-creating the Image Comics' book titled Reborn, along with writer Mark Millar. Prior to his Batman run, he was best known for his 80-issue run on Image Comics' Spawn. Other popular comics work includes Marvel Comics' X-Force and Quasar. He is also the creator of The Creech, a sci-fi/horror comic published by Image Comics. Greg has provided art for Blizzard Entertainment's World of Warcraft, contributed lead character designs for the the award-winning HBO animated Spawn series, and was the cover artist for many popular musical groups, including Five Finger Death Punch, Korn, and Disturbed.
Scott Snyder made a huge impact on the comic industry with his ground-breaking work in DC's New 52, writing Batman (with artist Greg Capullo) and Swamp Thing. In 2011, he received Harvey and Eisner Awards for Best New Series for his work on American Vampire. In addition to these three titles, Snyder co-wrote Talon, which spun off directly from his critically-acclaimed "Court of Owls" storyline from Batman. He is currently taking the reins of DC Comics' Justice League, writes New Challengers, and has authored such titles as Detective Comics, The Wake, Superman Unchained, All-Star Batman, Batman Eternal, Justice League: No Justice, DC Nation, Action Comics #1000, and Dark Nights: Metal.
"What a fantastic opportunity" said Marc Nathan, show promoter for the Baltimore Comic-Con. "These guys are in such high demand, and this special event provides their fans with the exclusive access they crave. We're really looking forward to it!"
The Baltimore Comic-Con is celebrating its 19th year of bringing the comic book industry to the mid-Atlantic area. For more information, please visit www.baltimorecomiccon.com.