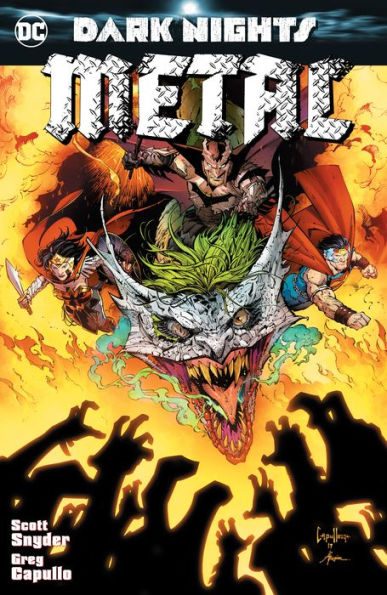 Join award-winning DC comic book writer, Scott Snyder (BATMAN, DARK NIGHTS: METAL, JUSTICE LEAGUE) at Barnes & Noble, Union Square for a discussion and fan signing on Saturday, June 16th from 7-9 pm EST. Moderated by THE NEW YORK TIMES senior editor George Gustines, Snyder will use the first hour to chat about all things METAL as well as other upcoming stories. He'll also share details on the evolution of METAL and how the series ties into several new JUSTICE LEAGUE titles including JUSTICE LEAGUE DARK, JUSTICE LEAGUE ODYSSEY and TITANS.
Batman has uncovered one of the lost mysteries of the universe…the dark corners of reality that have never been seen till now! The Dark Multiverse is revealed in all its devastating danger—and the threats it contains are coming for the DC Universe! The DARK NIGHTS: METAL collected edition includes issues #1-6 and is available on June 6th.
Following the Q&A, Snyder will participate in a book signing for fans. Free wristbands will be given out at Barnes & Noble starting at 9 AM on June 16th. A purchase of DARK NIGHTS: METAL is required to attend and fans may bring up to two additional books from home for Snyder to sign. As this event is on a first come, first served basis, attendees are encouraged to line up for wristbands early as space will be limited.
Free tickets for the Q&A available at the link…
Barnes & Noble – Union Square
33 East 17th Street, New York, NY 10003
212-253-0810