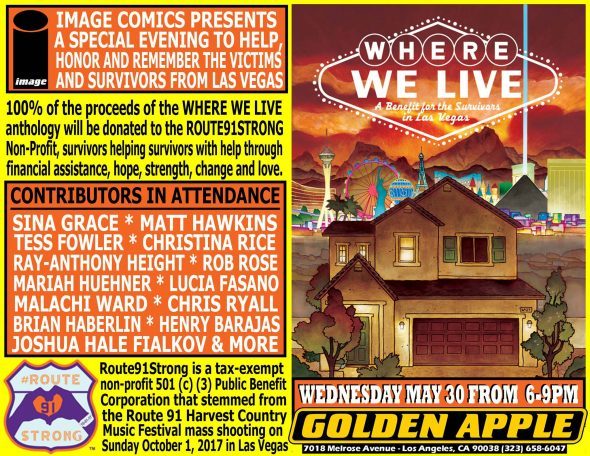 Sina M Grace, Brian Haberlin, Matt Hawkins, Ray-Anthony Height, Mariah Huehner, Lucia Fasano, Joshua Hale Fialkov, Tess Fowler, Christina Rice, Rob Rose, Chris Ryall, Malachi Ward, and Henry Barajas appear at Golden Apple Comics on Wednesday, May 30, 2018 from 6:00 – 9:00 PM to sign WHERE WE LIVE!
Image Comics Presents: Where We Live charity mixer to support the victims and survivors of the Las Vegas shooting on October 1, 2017. Many contributors of the Image Comics charity anthology will be at Golden Apple to sign autographs, do sketches and raise money for this important cause.
100% of the proceeds of this event will go to the cause and charity organization: www.Route91Strong.Org
Book Contributors in Attendance posted in flyer above. More creators may show up.
Golden Apple Comics
7018 Melrose Avenue, Los Angeles, CA 90038
323-658-6047