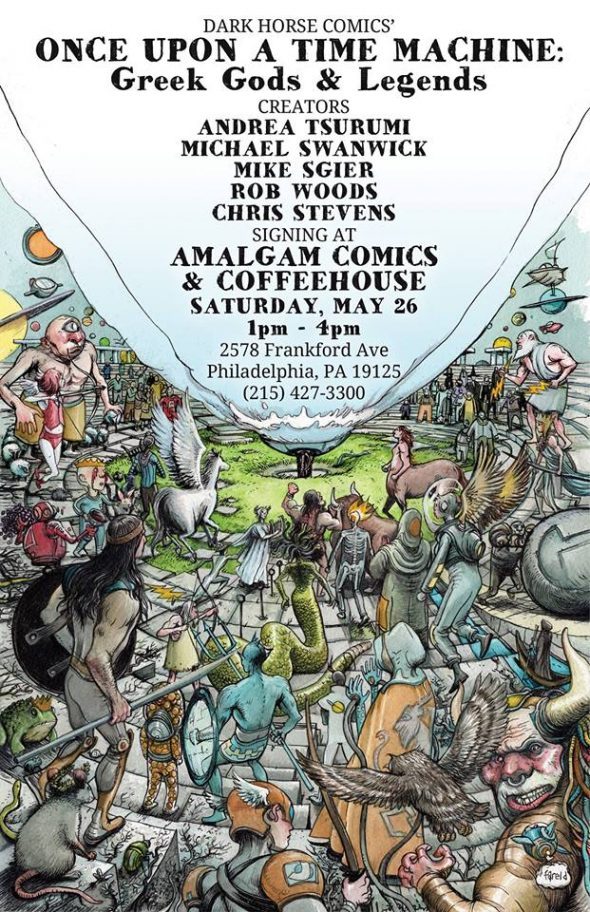 Chris Stevens, Andrea Tsurumi, Michael Swanwick, Mike Sgier and Rob Woods appear at Amalgam Comics on Saturday, May 26th at 1:00 PM to celebrate the release of Once Upon A Time Machine.
Andrea Tsurumi is an author, illustrator and cartoonist who lives and draws in Philadelphia. Her first picture book, Accident! (Houghton Mifflin Harcourt), was a Junior Library Guild selection and an NPR Best of 2017 pick. Her comics include Why Would You Do That? (Hic & Hoc), How to Pool, and Andrew Jackson Throws a Punch. Her work has been published by Penguin Random House, SpongeBob Comics, the Boston Globe, the New York Times, the Nib, and the Philadelphia Museum of Art. You can see more of her work at andreatsurumi.com or follow her on instagram (@atsurumi).
Michael Swanwick has received the Nebula, Theodore Sturgeon, World Fantasy and Hugo Awards, and has the pleasant distinction of having been nominated for and lost more of these same awards than any other writer. He has written ten novels, over a hundred and fifty short stories, and countless works of flash fiction. ONCE UPON A TIME MACHINE marks his debut in the world of comics. His latest novel The Iron Dragon's Mother, will be published in 2019.
Mike Sgier is a cartoonist and printmaker based in Philadelphia. Born and raised outside of Denver, Colorado, Mike received a BFA from Creighton University in Omaha, NE, and an MFA from the Minneapolis College of Art and Design in Minneapolis, MN. He has
been making comics since 2006, exploring a wide range of genres in the medium, including autobio, indie romance, and humorous sci-fi. He is currently making comics based in the fantasy world of Vespers, which include 'Solstice' 'Tales from Vespers,' and 'Edie Copperpot.'"
Rob Woods is a cartoonist born and raised in Philadelphia. His debut book 36 LESSONS IN SELF-DESTRUCTION was featured in the Village Voice and the Philadelphia Inquirer among others, and roundly praised by critics and fellow creators, including Paul Pope and JG Jones. He is currently at work on a collection of new material. You can find his books for sale at apluscomix.storenvy.com.
Chris Stevens is the co-founder of Locust Moon and multiple Eisner and Harvey award-winning creator of the ONCE UPON A TIME MACHINE series.
Amalgam Comics & Coffeehouse, Inc.
2578 Frankford Ave, Philadelphia, PA t19125
(215) 427-3300