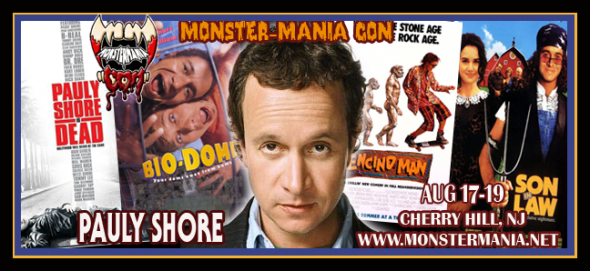 We are VERY excited to announce that PAULY SHORE will be will be making his FIRST MONSTER-MANIA CON appearance with us at MONSTER-MANIA CON 40 the weekend of AUGUST 17-19th in Cherry Hill, NJ!
PAULY first gained stardom with his hit MTV show TOTALLY PAULY in 1990. The show lasted for four seasons and helped launch his film career to the public eye. PAULY wrote and starred in an HBO comedy special PAULY DOES DALLAS that furthered his career as his work in films gained popularity. PAULY played the role of STONEY BROWN in 1992's popular ENCINCO MAN, which also starred both Sean Astin and Brendan Fraser.
The next year PAULY starred in the role of CRAWL in 1993's SON IN LAW. PAULY then starred in 1994's IN THE ARMY NOW, 1995's JURY DUTY and his personal favorite 1996's BIO-DOME in the role of BUD MACINSTOSH. PAULY also starred in 2003's PAULY SHORE IS DEAD.
Other projects PAULY has been involved in include ENTOURAGE, ALONE TOGETHER, ADOPTED and many others. PAULY continues to do standup comedy across the country.
Please join us in welcoming PAULY SHORE to his FIRST appearance at MONSTER-MANIA CON 40 in Cherry Hill, NJ!
Please LIKE and SHARE this announcement.
For tickets be sure to visit our website at www.monstermania.net