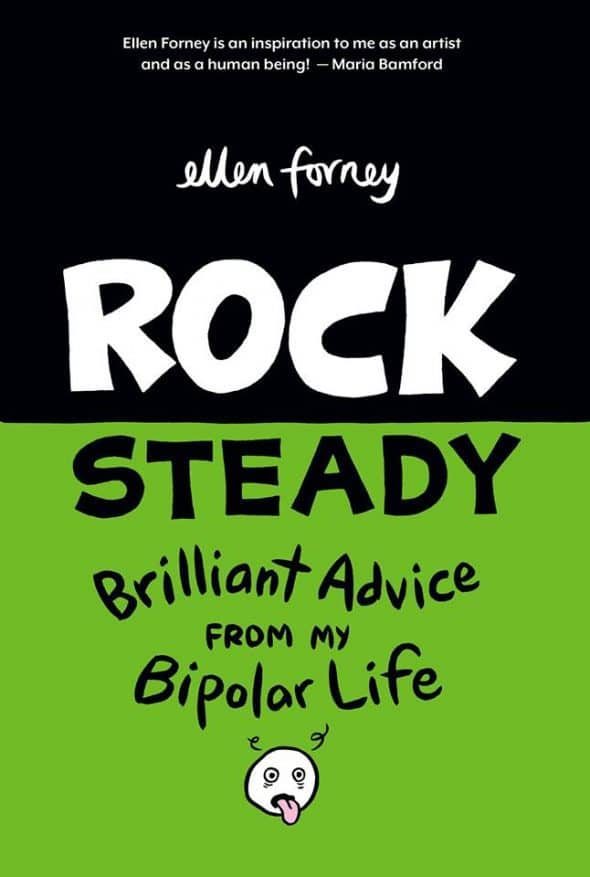 The Bindery hosts cartoonist Ellen Forney to speak in conversation with Justin Hall (No Straight Lines) on Thursday, May 17th at 7:30 PM to discuss Rock Steady: Brilliant Advice from My Bipolar Life, the anticipated companion volume to her bestselling graphic memoir Marbles: Mania, Depression, Michelangelo, and Me. Please join us in welcoming her back to San Francisco!
Whereas Marbles was a memoir about her bipolar disorder, Rock Steady turns the focus outward, offering a self-help guide of tips, tricks, and tools by someone who has been through it all and come through stronger for it.
With Marbles, Forney helped de-stigmatize mood disorders with her candid presentation of her struggle to find mental stability while retaining her passion and creativity. This is the jumping off point for her new book, Rock Steady: Brilliant Advice from My Bipolar Life. Personal stories and solid advice from Forney on how to overcome the hassle of meds, recognize red flags, and other tools from her own experience of 14 years of stability — all in comics form. Rock Steady: Brilliant Advice from My Bipolar Life invites readers into Ellen's home, head, and Peanuts pill box.
Ellen Forney lives in Seattle, WA, with her partner. She was the 2012 recipient of The Stranger Genius Award for Literature as well as the winner of the National Association for the Advancement of Psychoanalysis 2013 Gradiva Award.
Justin Hall is the creator of the comics series Hard To Swallow, True Travel Tales, and Glamazonia, with his work also appearing in the Houghton Mifflin Best American Comics, Best Erotic Comics, and the S.F. Weekly. Hall is the editor of No Straight Lines: Four Decades of Queer Comics, which won a Lambda Literary Award, received an Eisner Award nomination, and is now being turned into a feature-length documentary film. He is an Associate Professor of Comics at the California College of the Arts and a Fulbright Scholar, and curated the world's two largest museum shows of LGBTQ comics at the S.F. Cartoon Art Museum and the Schwules Museum in Berlin.
The Bindery
1727 Haight Street, San Francisco, CA 94117
(415) 863-8688