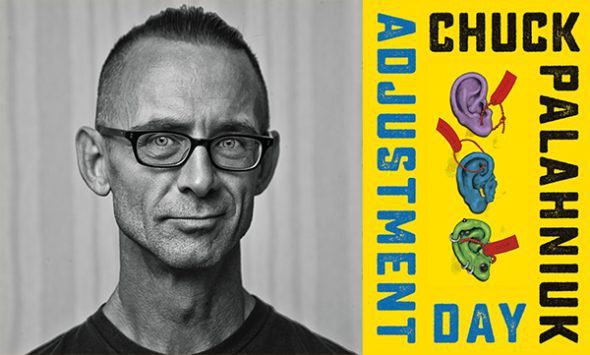 Author Chuck Palahniuk (Fight Club, Choke) appears at Greenlight Bookstore on Thursday, May 10, 2018 at noon to sign ADJUSTMENT DAY. Get tickets here…
Bestselling author Chuck Palahniuk, best known for the cultural touchstone Fight Club, appears at Greenlight to celebrate the release of his newest novel Adjustment Day. In this ingeniously comic work – the author's first novel in four years – Chuck Palahniuk does what he does best: skewer the absurdities in our society. Smug, geriatric politicians hatch a nasty fate for the burgeoning population of young males; working-class men dream of burying the elites; and professors propound theories that offer students only the bleakest future. When it arrives, Adjustment Day inaugurates the new, disunited states. Palahniuk's novel fearlessly makes real the logical conclusion of every separatist fantasy, alternative fact, and conspiracy theory lurking in the American psyche.
This is a book signing only. Each $26.95 ticket includes a wristband to access the signing line, as well as a hardcover copy of Adjustment Day; books are distributed at the signing table.
Wristbands for entry will be distributed to ticketholders on a first-come, first-served basis beginning at 11:30 AM on the day of the event. The signing line will form outside of Greenlight Bookstore (686 Fulton Street, Brooklyn); please arrive no earlier than 10:00 AM and no later than 4:00 PM. All ticketholders will have their book(s) signed.
Additional copies of Adjustment Day, as well as the new paperback edition of Fight Club 2 and other titles, will be available for sale on site. Palahniuk will sign Adjustment Day and up to two (2) additional items per customer, and will personalize by request.
Greenlight Bookstore
686 Fulton Street, Brooklyn, NY 11217
718-246-0200