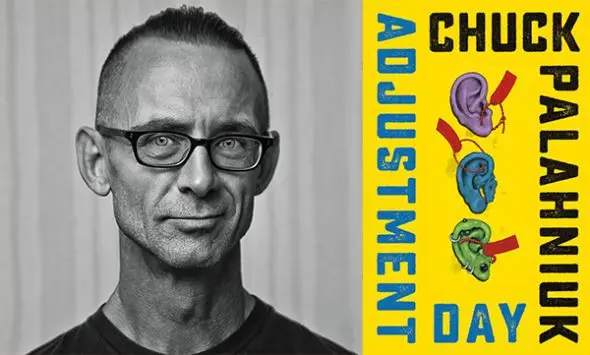 Author Chuck Palahniuk (Fight Club, Choke)  is back with his first novel in four years! Chuck will be at Strand on Tuesday, May 8th at 2:00 PM to sign copies of Adjustment Day and meet fans of his copious bestselling and beloved books.
Please note:
-This ADJUSTMENT DAY appearance is a signing only.
-Chuck will not be performing or reading at this event.
-This is a ticketed event and each ticket will include a copy of the ADJUSTMENT DAY hardcover.
-Tickets must be purchased in order to join the signing line, one book per person–no exceptions.
-Signing will be limited to ADJUSTMENT DAY only–no other books or items of memorabilia will be signed. We apologize for the inconvenience.
-Line formation will begin at the corner of 12th and Broadway at 2 PM, traveling up Broadway.
-We will cut off the line at 7:30 PM.
Admission Options: Buy a copy of Adjustment Day to attend this event. Please note that payment is required for all online event orders at the time of checkout. The event will be located in the Strand's main floor buying desk at our store at 828 Broadway at 12th Street.
Strand Book Store
828 Broadway, New York, NY, 10003-4805
(212) 473-1452