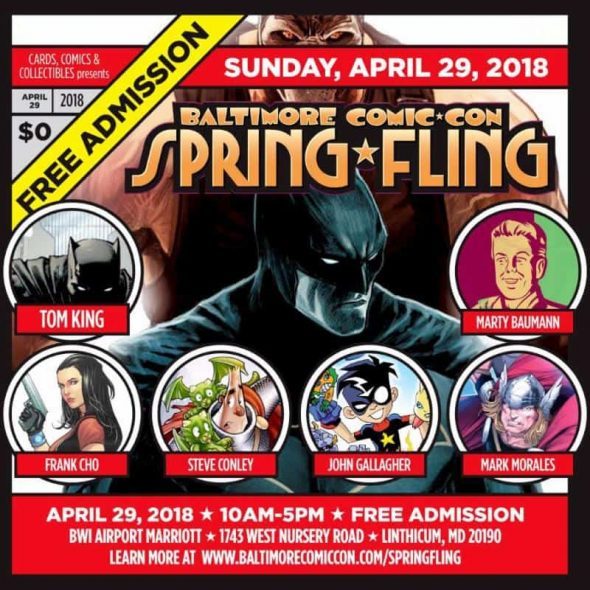 Press Release:
This Sunday, April 29th, the Baltimore Comic-Con Spring Fling returns for its 2nd annual event! Baltimore Comic-Con Spring Fling is a good old-fashioned comic book show with rows and rows of comic book dealers from around the country selling comics and collectibles from the ancient to the very modern, and some amazing comic guests as well — and admission is free!
We are very happy to announce the addition of Pixar and Disney artist, Marty Baumann to our line-up of guests for Spring Fling 2018!
Marty Baumann is an illustrator, graphic artist, and production designer. He has contributed to some of the most popular, Oscar-winning animated films of all time. Marty has worked as an artist at Walt Disney Pictures and Pixar Animation Studios as an illustrator, graphic artist, and production designer on such films as Toy Story 3, Big Hero 6, Zootopia, Cars 2, Planes, Wreck-It Ralph 2, and many others. He also helped develop theme park installations, toy packaging, and Pixar corporate branding. Marty has rendered illustrations and developed characters for toy manufacturers, magazines, and newspapers, and illustrated children's books, created logos, infographics, broadcast promotions, and presentation art for Hasbro, Universal Studios, National Geographic, Scholastic Books, Nickelodeon, and many others. Recent projects include his role as concept artist for the new Mystery Science Theater 3000 and the visual development of Sir Paul McCartney's feature film, High in the Clouds.
Ringo Award winner and Harvey and Eisner award nominee Frank Cho launched his career as a comic strip artist at the University of Maryland-College Park student newspaper, penning University2, which was the predecessor of his creator-owned syndicated strip and comic series, Liberty Meadows. His body of work also includes Marvel Comics' New Avengers, Mighty Avengers, Shanna the She-Devil, New Ultimates, and X-Men: Schism, as well as Jungle Girl for Dynamite Entertainment. His recent work can be seen in BOOM! Studios' Skybourne, and on covers from DC Comics' Harley Quinn and Wonder Woman.
Long-time friend of the show, Ringo, Harvey, and Eisner Award nominee, and guest since our inception in 2000 (!), artist and writer Steve Conley has contributed to numerous comic titles, both printed and on-line. His Astounding Space Thrills was self-published, published by Image Comics, and collected as a trade paperback by IDW. He has been featured in titles such as JLA-Z from DC Comics, Star Trek: Year Four from IDW, and Michael Chabon's Amazing Adventures of the Escapist from Dark Horse Comics. His creator-owned Bloop, is available through his online store in print or soft copy editions, and you can read his webcomic, The Middle Age, on his website.
John Gallagher is the award-winning artist and writer of graphic novels Buzzboy and Roboy Red (with Rich Faber). John teamed with sons Jack and Will to create a kids book, E.P.I.C. Bros., about two kids whose superhero dad is always out saving the world, and they pass the time using his gizmos for lovable mayhem. Jack and Will follow in the footsteps of big sister Katie, who teamed with her dad to create Zoey and Ketchup. John's Buzzboy is back from American Mythology Productions in Buzzboy Go Digital Monster Mayhem, where he has also contributed to the recently relaunched Casper the Friendly Ghost and The Inspector. When not creating comics, John is executive director of Kids Love Comics (kidslovecomics.net) and works as art director for Ranger Rick magazine.
Mark Morales has established himself as one of the industry's go-to inkers for major titles and events for the big publishers. He has inked a vast number of titles at Marvel Comics including, among many others, A+X, Amazing Spider-Man, Avengers vs. X-Men, New Avengers, Secret Invasion, Sentry, Siege, Thor, Uncanny X-Men, Wolverine, X-Force, and X-Men. He has also done work for DC Comics on titles like Action Comics, Batman/Superman, JLA, New Suicide Squad, Prez, and Superman: The Man of Steel. He was also awarded the Harvey Award for Best Inker in 2009 and 2011.
And, as a special Hero Initiative guest, Tom King. The Ringo and Eisner Award winner is currently the writer of Batman at DC Comics, where he has also written Mister Miracle, Grayson, The Omega Men, DC Nation, Swamp Thing Winter Special, and has a story in Action Comics #1000, not to mention his award-winning work at Marvel on The Vision. King's first book, A Once Crowded Sky, a postmodern super hero novel, was recognized by USA Today as one of the best Graphic Novels of the year. He was named by the Hollywood Reporter as one of the five comic creators to watch in 2015.
Tom will be signing from 1pm-3pm at the Hero Initiative booth, accepting donations for signatures. Tom requests that no graded books be brought for autographs and appreciates his fans' understanding.
The Baltimore Comic-Con is celebrating its 19th year of bringing the comic book industry to the mid-Atlantic area. For more information, please visit www.baltimorecomiccon.com.