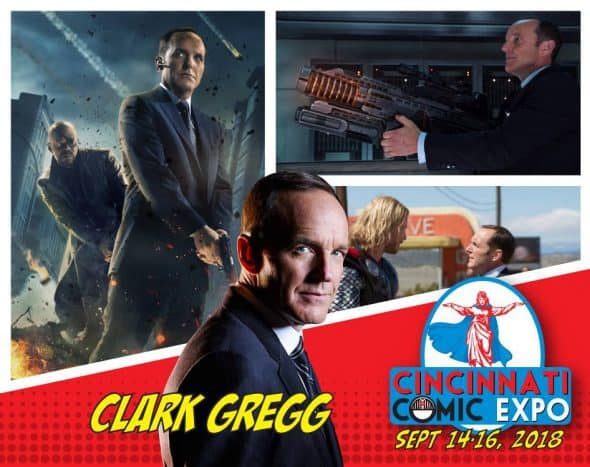 Clark Gregg, who currently portrays S.H.I.E.L.D. Agent Phillip J "Phil" Coulson, is the newest addition to the lineup of guests for the 2018 Cincinnati Comic Expo!
Clark will be appearing SATURDAY ONLY at the Expo! In the Marvel franchise alone, Clark has appeared in Iron Man and Iron Man 2, as well as Thor, The Avengers, Ultimate Spider-Man, Marvel Heroes, LEGO Marvel's Avengers, and more. He can be currently seen on Agents of S.H.I.E.L.D. and Coulson is expected to be shown in next year's Captain Marvel. Clark is also recognized as FBI Special Agent Casper from The West Wing drama series and starring in the sitcom The New Adventures of Old Christine. In film, Clark's credits also include The Usual Suspects, 500 Days of Summer, The To Do List, and numerous other features and programs.
Get your admission tickets to the 2018 Cincinnati Comic Expo for an opportunity to get an autograph and photo with Clark Gregg: goo.gl/R4ZeWa. Watch for details coming about Cobie Smulders and Clark Gregg duo photo ops!
Previously announced guests include: Levar Burton, Nikolaj Coster-Walda, Cobie Smulders, Karl Urban, Summer Glau, Tom Grummett, Amy Chu, John Bolton, Rick Leonardi, Alex Saviuk, Michael Zeck, and more
Established in 2010, the Cincinnati Comic Expo is an annual event celebrating the best in comic books, fantasy, gaming, collectibles, cosplay, steampunk and pop culture in the heart of downtown Cincinnati. Now in it's 9th year, The Cincinnati Comic Expo, has grown to become the Queen City's premier comic convention, bringing together great artists, publishers, actors, writers, cosplayers, and fans from across the world.
Follow us on social media so you can be one of the first to hear the fresh line up of close to 20 NEW comic artists to Cincinnati Comic Expo and other guest film and TV stars that will join us in 2018.
For further information please go to the website: cincinnaticomicexpo.com