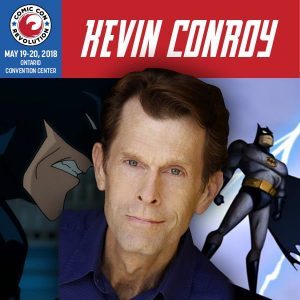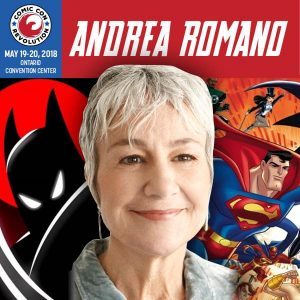 Press Release:
Comic Con Revolution, the Inland Empire's only comic convention is pleased to announce that legendary voice actor Kevin Conroy, who has provided the iconic Batman voice since 1993 will be appearing at Comic Con Revolution on Saturday May 19.  Joining Conroy for this rare appearance is celebrated casting and voice director Andrea Romano.
Conroy has been the voice of The Dark Knight since the launch of the groundbreaking debut of Batman: The Animated Series in 1992 and has gone on to record the voice of DC Comics most recognizable hero in Warner Bros. animated films, the Batman Beyond series, both Justice League animated series, the critically acclaimed Arkham series of video games and more.  In total, Conroy has appeared as the Batman well over 300 times and has portrayed him longer than anyone else.
"I feel so honored to have had the opportunity to play the complex character of Batman for over 27 years and to work with such a talented crew of actors, writers and producers," said Conroy. "And behind the scenes guiding us all was the passion of Andrea Romano."
Romano has well over 100 casting and voice directing credits dating back over 30 years. She is the driving force behind the voices of the animated DC Comics movies as well as many other Warner Bros. properties.  Her credits include Batman: The Animated Series, Justice League, Justin League Unlimited, Teen Titans, Superman: The Animated Series, Scooby Doo, Pinky and the Brain and many more.  Romano has also contributed to some of animations most beloved animated series including Avatar: The Last Airbender, DuckTales (1987), Teenage Mutant Ninja Turtles (2012) and Voltron: Legendary Defender (2016).
"Looking forward to meeting the fans at Comic Con Revolution.  Come say hi and get an autographed picture," said Romano.
"To me, and the vast majority of fans worldwide, Kevin Conroy IS Batman. There are very few people you can undeniably associate with the character they portray," said owner and co-founder of Comic Con Revolution Mike Scigliano.  "Having him join us in Ontario this May is going to be an unforgettable experience for our attendees."
"Andrea Romano has an ability to bring animated characters to life through the sound of their voices.  Her contribution to the DC animated universe is truly remarkable," said owner and co-founder of Comic Con Revolution Drew Seldin.
For the most up to date information about the show, including our latest guest list additions, head over to www.ComicConRevolution.com