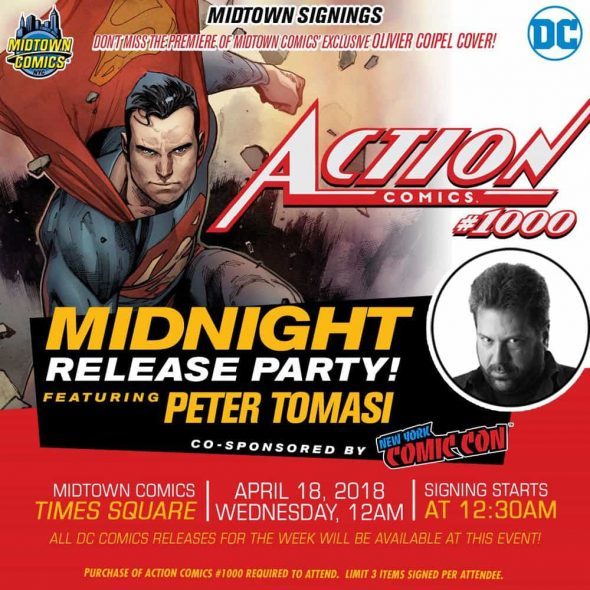 Writer Peter Tomasi joins us from Midtown Comics Times Square at Midnight on Wednesday, April 18th to celebrate the release of Action Comics #1000! Celebrate 1000 issues of Superman's flagship title with this once in a lifetime event!
Prizes are more provided by New York Comic-Con!
This is a Midnight release party with an open signing and we recommend showing up early, just to be safe. Action Comics #1000 and all other DC Comics titles will be available for purchase at 12:00 AM MIDNIGHT. FOr the signing, purchase of Action Comics #1000 is mandatory, you may get up to 3 items signed. See you there!
Celebrate 1000 issues of Action Comics with an all-star lineup of top talent as they pay tribute to the comic that started it all! From today's explosive action to a previously unpublished tale illustrated by the legendary Curt Swan to the Man of Tomorrow's future-this very special over-sized issue presents the best of the best in Superman stories!
Midtown Comics Times Sq
200 West 40th Street, New York, New York 10018
(212) 302-8192