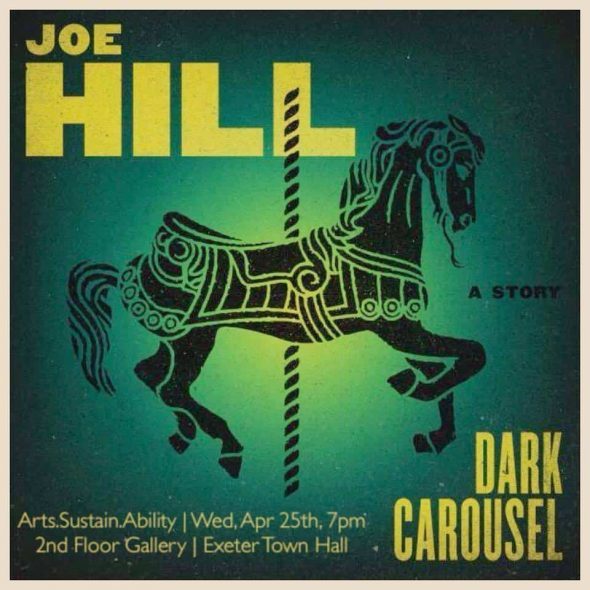 Author Joe Hill (Locke & Key, Strange Weather, N0S4A2, Horns) appears at the Exeter Town Hall to present and sign Dark Carousel on Wednesday, April 25, 2018!
"Arts.Sustain.Ability" will be a pop-up art show sponsored by TEAM, running from Wednesday, April 25th to Sunday, April 29th at the 2nd Floor Gallery at Exeter Town Hall, featuring local artists in multiple genres who have amassed local, regional, and international followings through their work.
The opening event will be presented in conjunction with Water Street Bookstore, and feature a listening and signing party for seacoast-based best-selling author Joe Hill, and his new vinyl audiobook release "Dark Carousel". The night will also showcase performances by Exeter's own David Drouin of Cold Engines, an award-winning singer/songwriter who will present his own original material in addition to a cover of the Rolling Stone's classic "Wild Horses", which is featured on the audiobook. Celebrated local painter Bruce Jones of Jones Art Studio will be debuting a piece inspired by the "Dark Carousel" story, which is narrated on the vinyl release by television and film actor Nate Corddry.
6:00 PM: Gallery Opens / Full Spin of "Dark Carousel" on vinyl
7:00 PM: Reading by Joe Hill with Q & A
7:30 PM: "Wild Horses" & Original Set by David Drouin
7:30 PM: "Dark Carousel" limited edition signing with Joe Hill
Exeter Town Hall
9 Front St, Exeter, NH 03833