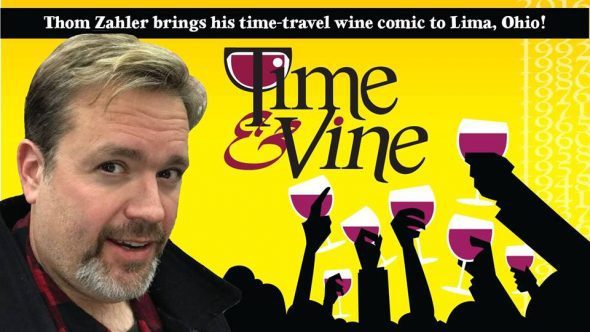 Thom Zahler will be signing copies of his latest graphic novel, Time & Vine, at Alter Ego Comics from 1:00 – 3:00 PM AND at Vino Bellissimo from 4:00 – 5:30 PM on Saturday, April 14th.
About Time & Vine: The story of a magical winery where every glass takes you back in time to the year the wine was bottled. From the Civil War to the Roaring Twenties to yesterday… it's all available with just one sip.
Megan is looking for a break from taking care of her Alzheimer's afflicted mother and finds the ultimate escape when Jack, the owner of the Aeternum Winery, reveals its time-traveling secret to her. Together, they drink their way through history, both the winery's and their own. In time, Megan learns a family secret that her mother may not even remember and discovers that Jack is keeping one of his own about his late wife.

About Thom Zahler: Thom Zahler is the codename for America's daring, highly trained special cartooning force. Its purpose: to bring awesome artwork to the world… and also to defend human freedom against Cobra, a ruthless terrorist organization determined to rule the world. But mostly the cartooning thing.

Thom Zahler is a northeast Ohio-based comic book artist and writer. He's particularly known for his romantic comedy comics. In 2006, he debuted Love and Capes, the superhero romantic comedy about the adventures in love of an ordinary bookstore owner and her accountant boyfriend… who also happens to be the superhero The Crusader. And then in 2014 he introduced readers to Long Distance, a story about two young professionals who meet while stranded at an airport during a snowstorm and decide to date even though they both live in different states.

Currently, he is the writer and artist of the hit Warning Label comic on Line Webtoons, featuring a girl curse by her ex-boyfriend that every guy who asks her out gets the list of what they need to watch out for. And he just completed Time and Vine for IDW, about a magical time-traveling winery.

He is also a frequent writer and artist for IDW's successful My Little Pony comics.

Zahler has written for the Disney XD cartoon, Spider-Man Web Warriors, where he wrote the first part of the season finale "Contest of Champions." He is also a frequent contributor to the Topps' Star Wars card sets. He recently wrote the pilot episode of the "Knights of the Zodiac" Netflix series, set to debut in 2018.

He continues to work as a cartoonist, illustrator and letterer for many companies across the country.

He is a graduate of the Joe Kubert School of Cartoon and Graphic Art and of Lake Catholic High School.
Alter Ego Comics
230 N. Main Street, Lima, OH 45801
(419) 224-6700