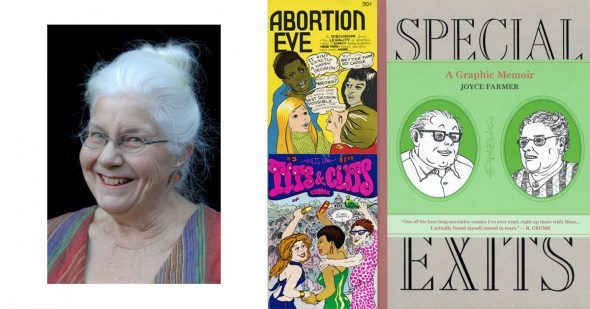 Press Release:
Join the Billy Ireland Cartoon Library & Museum on Tuesday, April 17th at 6:00pm for an evening with renowned cartoonist Joyce Farmer.
Farmer has been creating comics since 1972. The series Tits and Clits (1972-1987) explored women's adventures regarding sex and cultural expectations. Abortion Eve, edited by Joyce Farmer and Lyn Chevli, was published shortly after the Supreme Court's January 1973 Roe v. Wade ruling and informed women about the realities of abortion. Controversial at the time, Farmer is now recognized as a pioneer in underground comix.
Her graphic memoir Special Exits (2010) depicts the universal problems of the elderly and treatment of the extremely vulnerable by the medical community. She won a Reuben award and was nominated for an Eisner the same year. The book has been translated into five languages.

Farmer will be in conversation with comics journalist and CXC Executive Director, Thomas Spurgeon.
Billy Ireland Cartoon Library & Museum
1813 N High Street, Columbus, OH 43210-1393
614-292-0538