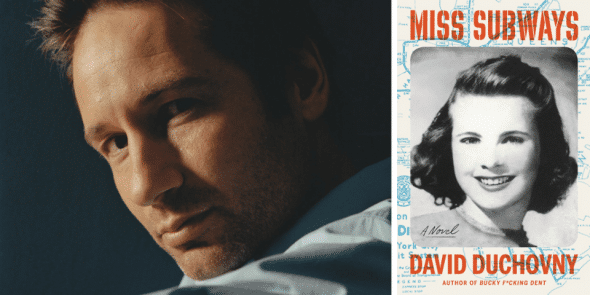 David Duchovny (X-Files, Aquarius, Californication) appears at the Brattle Theatre on Wednesday May 2, 2018 at 7:00 PM to sign his new novel MISS SUBWAYS. **SOLD OUT**
About Miss Subways
New York Times bestselling author David Duchovny reimagines the Irish mythological figure of Emer in Miss Subways, a darkly comic fantasy love story set in New York City.
Emer is just a woman living in New York City who takes the subway, buys ice cream from the bodega on the corner, has writerly aspirations, and lives with her boyfriend, Con. But is this life she lives the only path she's on? Taking inspiration from the myth of Emer and Cuchulain and featuring an all-star cast of mythical figures from all over the world, David Duchovny's darkly funny fantasy novel Miss Subways is one woman's trippy, mystical journey down parallel tracks of time and love. On the way, Emer will battle natural and supernatural forces to find her true voice, power, and destiny. A fairy tale of love lost and regained, Miss Subways is also a love letter to the city that enchants us all: New York.
Please Note: The signing is limited to books only (no memorabilia).
This event at the Brattle Theatre is now sold out, but Harvard Book Store is pleased to announce a newly added in-store book signing event with David Duchovny at 4:00 PM to the schedule! Find tickets and details for the in-store book signing event: RSVP on Facebook!
The Brattle Theatre
40 Brattle Street, Cambridge, MA 02138
(617) 876-6837