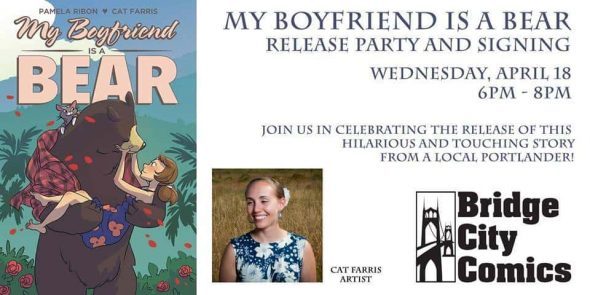 Press Release:
Bridge City Comics is excited to announce our release party for My Boyfriend is a Bear on Wednesday, April 18, 2016 starting at 6pm, with Portland local artist Cat Farris! This event is free to the public.
Bridge City Comics will have copies of My Boyfriend is a Bear trade paperback collection ($19.99) available for purchase at this event! Cat Farris will be in attendance to sign your copies! Refreshments will be served free of charge. Sketches are at the discretion of the artist.
About My Boyfriend is a Bear:
Nora has bad luck with men. When she meets an (actual) bear on a hike in the Los Angeles hills, he turns out to be the best romantic partner she's ever had! He's considerate, he's sweet, he takes care of her. But he's a bear, and winning over her friends and family is difficult. Not to mention he has to hibernate all winter. Can true love conquer all?
Bridge City Comics
3725 N Mississippi Ave, Portland, OR 97227
(503) 282-5484