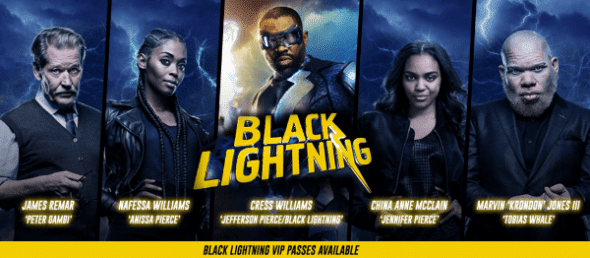 Press Release:
The Great Philadelphia Comic Con is pleased to announce that the cast of BLACK LIGHTNING including Cress Williams, Nafessa Williams, China Anne McClain, Marvin Jones III, and James Remar plus artist Trevor Von Eeden, co-creator of the character Black Lighting, will be appearing April 27-29th at The Great Philadelphia Comic Con 2018! They will be available for signings and professional photo ops.
Cress Williams currently stars as Jefferson Pierce aka Black Lightning in The CW's new superhero show based on the comics character created by Tony Isabella with Trevor Von Eeden in 1977. Audiences may recognize Williams from having recurred during the final season of the beloved critically acclaimed series, "Friday Night Lights." His additional television credits are "Hart of Dixie", "Cold Case," "Prison Break," "Close to Home," "The West Wing," "Veronica Mars," "Law & Order: Special Victims Unit," "E.R.," "NYPD Blue, " "Grey's Anatomy" and "Living Single" among others. Notable film credits include the features "2 Days in the Valley" and "Never Been Kissed" starring Drew Barrymore.
James Remar currently can be seen each week on The CW's Black Lightning as Peter Gambi. In a career spanning nearly four decades, James has run the gamut of characters and films. From his early role as Ajax in The Warriors, psychopaths such as Albert Ganz in Walter Hill's 48 Hrs. and Dutch Schultz in Francis Ford Coppola's The Cotton Club; He has also taken more lighthearted roles such as Samantha's lover, the billionaire playboy, Richard Wright, in the HBO series Sex and the City. Recently James starred alongside Michael C. Hall in the hit Showtime series Dexter where he played Dexter's wise, compassionate, adoptive father, Harry Morgan. James enjoys the distinction of being the only actor to die twice, as two different characters in Quentin Tarintino's smash hit Django Unchained.
An American actress and singer. China Anne McClain currently stars in the The CW show Black Lightning. McClain became internationally known after starring in the Disney Channel original television series A.N.T. Farm, landing the role as Chyna Parks, from 2011 to 2014. She also appeared as the main villain Uma in the Disney Channel's Descendants 2 and was Jazmine on the show Tyler Perry's House of Payne.
Marvin 'Krondon' Jones III is an American Rapper and actor from Los Angeles, California. He is a member of the group Strong Arm Steady, along with rappers Phil Da Agony and Mitchy Slick. Marvin also ghostwrites for other rappers, such as Snoop Dogg, Dr. Dre, and Xzibit. Currently Marvin can be seen each week in the role of Tobias Whale on the CW Hit show Black Lightning.
Trevor Von Eeden's comic book career began at age 16, when DC Comics editor Jack C. Harris hired him to illustrate prototype assignments with the Legion of Super-Heroes and Weird War Tales. Soon after, Von Eeden was officially hired to design and draw the company's first African-American superhero to have his own title, Black Lightning.
Visit www.philadelphiacomiccon.com for further information and tickets!