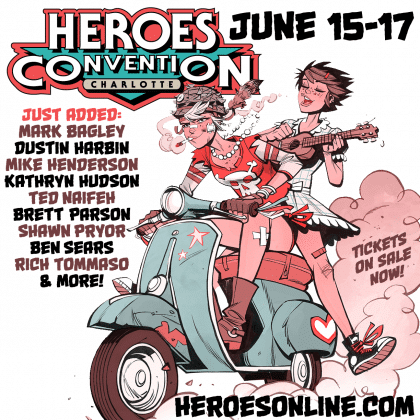 HeroesCon has announced more new guests for their 2018 show including Mark Bagley, Mike Henderson, Dustin Harbin, Kathryn Hudson, Ted Naifeh, Brett Parson, Shawn Pryor, Ben Sears, Rich Tommaso, and more! HeroesCon 2018 takes place June 15-17, 2018 at the Charlotte Convention Center.
GUEST ADDITIONS:
MARK BAGLEY | Spider-Man, Venom, X-Men, Avengers
WES BROOKS | Undead Speed Equipment, Grim Riders
PATY COCKRUM | SATURDAY ONLY | The Cat, Nightcrawler
PATRICK DEAN | FLUKE, Big Deal Comics & Stories
DUSTIN HARBIN | BEHOLD! The Dinosaurs, DIARY COMICS, DHARBIN!
MIKE HENDERSON | Nailbiter, Illuminati, Secret Wars
KATHRYN HUDSON | Trolls, Character Designer at Warner Brothers, Floyd County Productions
TED NAIFEH | Heroines, Courtney Crumrin, Polly and the Pirates
ROBERT NEWSOME | Atomic Elbow, FLUKE
BRETT PARSON | Tank Girl, New Romancers
SHAWN PRYOR | Cash & Carrie, Kentucky Kaiju, F.O.R.C.E.
BEN SEARS | The Ideal Copy, Volcano Trash, Night Air, Double+
MARLIN SHOOP | LARP!, Grimm's Fairy Tales: Myths and Legends
RICH TOMMASO | She Wolf, Dark Corridor, The Horror Of Collier County, Clover Honey

For the most up-to-date information, check our blog, or sign up for the weekly Heroes Hotline newsletter. You can also follow us on Twitter and Facebook!
BUYING AN ADVANCE PASS MEANS YOU'LL GET ANY ADVANCE INCENTIVES WE OFFER, FREE!
ENTRY WILL BE $25: FRI $25: SAT $20: SUN / AT THE SHOW ITSELF, SO YOU SAVE AS MUCH AS $20 BY PURCHASING ADVANCE PASSES TODAY! TICKETS ARE NOT REFUNDABLE, UNDER CERTAIN CIRCUMSTANCES WE MAY CREDIT AN UNUSABLE TICKET TOWARD FUTURE TICKET PURCHASES.
HEROES CONVENTION was founded in 1982 by Shelton Drum, owner of Charlotte's Heroes Aren't Hard To Find comics shop. Since then the convention has become famous for its comics-first and family-friendly atmosphere, where fans can mingle directly with professionals and exhibitors. Boasting an incredible guest list built mainly on reputation and goodwill, HeroesCon is known nationwide as a "must" on the summer schedule, drawing fans, exhibitors, and creators from all over the world to the Charlotte Convention Center.