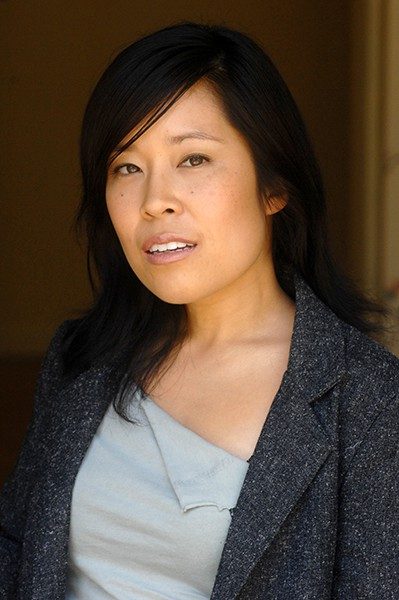 Voice Actor Stephanie Sheh will be appearing at Anime Boston, the largest anime con in the northeast, on March 30 through April 1, 2018 at the Hynes Convention Center in Boston, MA.
Stephanie Sheh is a voice actress, voice director, ADR writer, and casting director. She was blessed to voice Mitsuha Miyamizu in Makoto Shinkai's hit anime movie Your Name. Recently she voiced Yuho in Masaaki Yuasa's Lu Over the Wall, where she got to sing. Stephanie's probably most well-known in the anime realm for voicing Sailor Moon in the current VIZ Media Release of Sailor Moon and Sailor Moon Crystal, as well as Hinata in Naruto, Orihime in Bleach, Yui in Sword Art Online, Kuro in Blue Exorcist, and Mineva in Gundam Unicorn. Stephanie is excited to be returning to voice Eureka in Funimation's release of the upcoming Eureka 7 movies.
In addition to anime, Stephanie has many voice credits in video games, most notably Tharja in the Fire Emblem series, Airy in Bravely Default, Mikan in Danganropa, Kyrie in Devil May Cry, and Rebecca Chambers in a number of Resident Evil games. She's also done motion capture work for games as well as animation. Most recently she mocapped Maz Kanata in Star Wars Battlefront 2. Stephanie has also voiced characters in original animation shows like Zhuli in Legend of Korra, Katana in WB's DC Super Hero High, Jinafire and Boolittle in Monster High, Share Bear in Carebears: Welcome to Care-a-lot, Vega in Disney's Stardarlings, Popo in Miles from Tomorrowland, and various roles in Cartoon Network's We Bare Bears.
Previously announced guests include FLOW, Asaka, Greg Ayres, Monica Rial, Hideyuki Tomioka, Katsuyuki Sumizawa, Hirokatsu Kihara, Michihiko Suwa, Kaoru Wada, Kaiji Tang, Josh Grelle, Amanda C. Miller, Jez Roth, Rachel Robinson, Christopher Bevins, J. Michael Tatum, Brandon McInnis, Caitlynn French, Scott Gibbs, Yūji Mutō, Mary Elizabeth McGlynn, Steve Blum, Kazuki Yao, Justin Briner, and Clifford Chapin.
About Anime Boston: With nearly 26,000 attendees in 2017, Anime Boston is an annual three-day Japanese animation convention held in Boston, Mass. Anime Boston 2018 is scheduled for Friday, March 30 through Sunday, April 1 at the Hynes Convention Center and Sheraton Boston Hotel. More information about Anime Boston can be found at www.animeboston.com.
About New England Anime Society, Inc.: The New England Anime Society was founded in 2001. Based in Massachusetts, The New England Anime Society, Inc. is parent organization of Anime Boston and is dedicated to furthering public education and understanding of the Japanese language and culture through visual and written media. More information about The New England Anime Society is available at www.neanime.org.