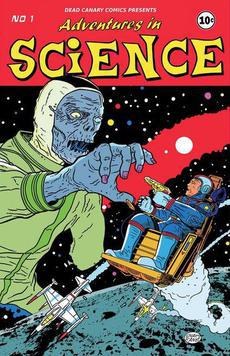 Krent Able, Geoff Senior, Shaky Kane, Matt Fitch, Chris Baker, Joe Totti, and Mark Stafford sign the ADVENTURES IN SCIENCE! anthology at Forbidden Planet's London Megastore on Saturday 31st March, from 1:00 – 2:00 PM.
ADVENTURES IN SCIENCE! is a neon-soaked, darkly comic, technicolor graphic anthology daring to tell the fates of imagined futures!
Dead Canary Comics have assembled a crack team of artistic architects to build worlds beyond imagining! These pioneering pencil prodigals have bled blood to bring you nightmare visions of a futuristic prison system, the next stage in warfare, the humdrum life of single-women, and everything in between!
Each story is a self-contained 'what if', a pulpy adventuristic delight of scientific dreaming, a sideways glance at "what could be". Some stories are funny, some are serious, some are deep… all are guaranteed to entertain.
These tales have been lovingly curated and compiled to make a fantastical, mind-blowing graphic novel by the team that brought you The Fitzroy Comic, Reddin, Last Driver and The Frogman Trilogy.
Forbidden Planet London Megastore
179 Shaftesbury Avenue, London, WC2H 8JR
0207 420 3666