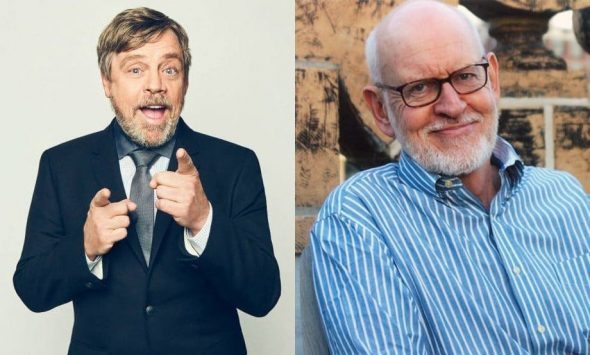 Mark Hamill appears in conversation with Frank Oz at the 92nd Street Y on Thursday, March 22, 2018 at 8:00 PM!
Press Release:
Star Wars fans, rejoice: Luke Skywalker is here! Fresh off his return to the screen in the massive critical and box-office smash Star Wars: The Last Jedi, Mark Hamill lands at 92Y for a conversation with the man behind Yoda, legendary puppeteer and filmmaker Frank Oz. Hear from Hamill as he looks back on four decades of Star Wars and his iconic role as the Jedi Master — just in time for the latest film's release on digital (March 13) and Blu-ray (March 27).
About Mark Hamill:
Mark Hamill's career has encompassed all aspects of entertainment including stage, screen, television and new media. He is best known as Luke Skywalker in George Lucas' original Star Wars trilogy. He returned to the role in J.J Abrams' Star Wars: The Force Awakens and will continue in Rian Johnson's Episode VIII: The Last Jedi. Other films include: Corvette Summer, Samuel Fuller's The Big Red One, Slipstream, Walking Across Egypt, Jay and Silent Bob Strike Back, Sushi Girl, Kingsman: The Secret Service, and most recently playing Kyle Mooney's father in Brisby Bear. Hamill directed and starred in the cult mockumentary Comic Book: The Movie.
Broadway credits include The Elephant Man, Amadeus (also First National Tour), Michael Stewart's Harrigan n' Hart, The Nerd, Six Dance Lessons in Six Weeks and the Roundabout Theatre production of Room Service. A prolific voice-over artist, he has performed in countless television cartoons, feature films and video games. Hamill first played the Joker in Batman: The Animated Series. He returned to the role in the Arkham Aslyum video game series for which he received a BAFTA award and in last year's groundbreaking R-rated animated film, The Killing Joke. This trend continued when he returned as The Trickster on CW's The Flash, a role he first played in the original CBS series. Hamill has re-teamed with Wing Commander creator Chris Roberts for Star Citizen: Squadron 42 with Gary Oldman, Gillian Anderson and Ben Mendelsohn.
About Frank Oz:
Frank Oz worked with Jim Henson for 35 years. He and his fellow original Muppet performers have created hundreds of Muppet Characters performing them for Sesame Street, The Muppet Show, Saturday Night Live and on dozens of other shows. Frank also performs Yoda in the Star Wars movies and he has directed a dozen feature films.
92nd Street Y
1395 Lexington Avenue, New York, New York 10128
212-415-5500