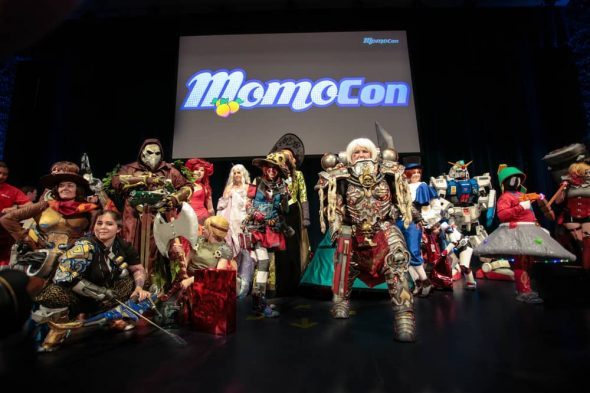 Press Release:
Get your sewing machine ready! MomoCon's awesome partner convention Dragon Con will sponsor the MomoCon Craftsmanship Costume contest, with the Best Masters (Overall) winner receiving a prize pack including two Dragon Con weekend memberships and a weekend stay (Friday-Monday) at the Marriott Marquis during the Labor Day event!
This prize is in addition to current prizing, and we will have many more announcements coming your way about contests, guests, prizing, tournaments, and so much more!
Full rules and requirements for the Craftsmanship and Closet Costume contests are available at: momocon.com/contests, entries are limited and signups are on site only, starting 2pm Friday.
Have you registered for MomoCon 2018 yet?  Register as soon as possible to get the best rate on your 4-day membership for MomoCon 2018. Right now it is the early bird rate of $55, before the rate increase on January 1st. Be sure to register today and save!
About MomoCon   
Founded in 2004 by Jessica Merriman and Chris Stuckey, then students at Georgia Tech, MomoCon has grown from a 700 person on campus event to the largest event in the southeast United States for fans of video games, animation, cosplay, comics and tabletop games.
With 28,300 unique and over 71,000 turnstile attendance in 2016, MomoCon is one of the fastest growing all ages conventions in the country. Fans of Japanese Anime, American Animation, Comics, Video Games, and Tabletop Games come together to celebrate their passion by costuming / cosplay, browsing the huge exhibitors hall, meeting celebrity voice talent, designers, and writers behind their favorite shows, games, and comics and much much more over this 4 day event.