Press Release: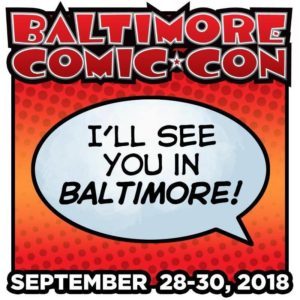 The Baltimore Comic-Con returns to the Inner Harbor's Baltimore Convention Center this September 28-30, but so does our special "thank you" event to our fans: Baltimore Comic-Con Spring Fling returns for its 2nd annual event Sunday April 29, 2018 from 10:00 AM – 5:00 PM at the BWI Airport Marriott!
Baltimore Comic-Con Spring Fling is a good old-fashioned comic book show with rows and rows of comic book dealers from 6-8 states around the country, with comics and collectibles from the ancient to the very modern…and we're bringing in a few guests as well!
Ringo Award winner and Harvey and Eisner award nominee Frank Cho launched his career as a comic strip artist at the University of Maryland-College Park student newspaper, penning University2, which was the predecessor of his creator-owned syndicated strip and comic series, Liberty Meadows. His body of work also includes Marvel Comics' New Avengers, Mighty Avengers, Shanna the She-Devil, New Ultimates, and X-Men: Schism, as well as Jungle Girl for Dynamite Entertainment. His recent work can be seen in BOOM! Studios' Skybourne, and on covers from DC Comics' Harley Quinn and Wonder Woman.
Long-time friend of the show, Ringo, Harvey, and Eisner Award nominee, and guest since our inception in 2000 (!), artist and writer Steve Conley has contributed to numerous comic titles, both printed and online. His Astounding Space Thrills was self-published, published by Image Comics, and collected as a trade paperback by IDW. He has been featured in titles such as JLA-Z from DC Comics, Star Trek: Year Four from IDW, and Michael Chabon's Amazing Adventures of the Escapist from Dark Horse Comics. His creator-owned Bloop, is available through his online store in print or soft copy editions, and you can read his webcomic, The Middle Age, on his website.
John Gallagher is the award-winning artist and writer of graphic novels Buzzboy and Roboy Red (with Rich Faber). John teamed with sons Jack and Will to create a kids book, E.P.I.C. Bros., about two kids whose superhero dad is always out saving the world, and they pass the time using his gizmos for lovable mayhem. Jack and Will follow in the footsteps of big sister Katie, who teamed with her dad to create Zoey and Ketchup. John's Buzzboy is back from American Mythology Productions in Buzzboy Go Digital Monster Mayhem, where he has also contributed to the recently relaunched Casper the Friendly Ghost and The Inspector. When not creating comics, John is executive director of Kids Love Comics (kidslovecomics.net) and works as art director for Ranger Rick magazine.
Mark Morales has established himself as one of the industry's go-to inkers for major titles and events for the big publishers. He has inked a vast number of titles at Marvel Comics including, among many others, A+X, Amazing Spider-Man, Avengers vs. X-Men, New Avengers, Secret Invasion, Sentry, Siege, Thor, Uncanny X-Men, Wolverine, X-Force, and X-Men. He has also done work for DC Comics on titles like Action Comics, Batman/Superman, JLA, New Suicide Squad, Prez, and Superman: The Man of Steel. He was also awarded the Harvey Award for Best Inker in 2009 and 2011.
Brandon Peterson has been a professional illustrator for over 20 years, working primarily as a penciller and inker, but often as a colorist, writer, editor, and art director. He has done a great deal of work at Marvel Comics, as the artist on books like AvX, Avengers, The Ultimates, Ultimate Vision, Ultimate Extinction, Ultimate X-Men, Astonishing X-Men, X-Men, and Uncanny X-Men. Brandon was also VP of Special Projects and Art Director of the now-defunct CrossGen Comics, where he created titles like Mystic and Chimera. He is also a veteran of Top Cow Productions, having worked on Codename: Strykeforce, Cyberforce, Ripclaw, Medieval Spawn/Witchblade, and his own book, Arcanum. His work is recently featured on IDW's Revolution Heroes and DC Comics' Trinity.
Additionally, the Hero Initiative will be in the room with us this year — stay tuned!
The Baltimore Comic-Con is celebrating its 19th year of bringing the comic book industry to the mid-Atlantic area. For more information, please visit www.baltimorecomiccon.com.