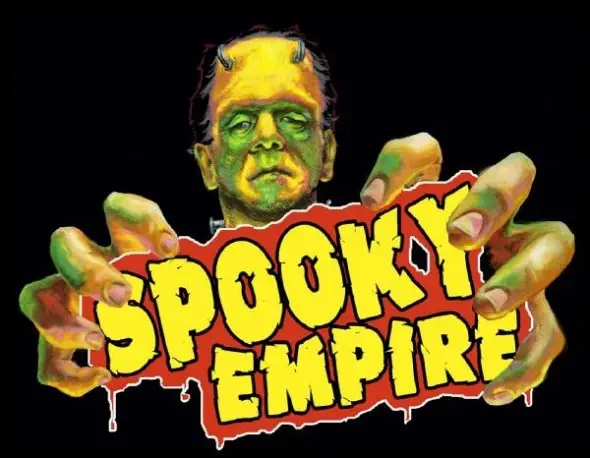 Spooky Empire, founder of one of the most coveted and recognizable thriller conventions in the nation, announces their highly-anticipated mid-season convention on April 6 – 8, 2018 at The Wyndham Orlando Resort. The 3-day annual convention will feature an array of activities including celebrity autographs with meet & greets, photo ops, Q&A's led by special guests, live performances, and their popular tattoo festival with more than 25+ artists.
This year, celebrity guests include:
•   The return of The Chiodo Brothers, the group of sibling creative forces known for movies such as Killer Klowns from Outer Space. They have also created creatures and puppets for films and TV show including Critters, Team America: World Police, Elf, Ernest Scared Stupid, Monsters, The Thundermans, The Simpsons, and Pee Wee's Big Adventure.
•   They will be joined by David Naughton, from American Werewolf in London and Twilight Zone.
•   Along with Butch Patrick best known for his role as "Eddie Munster" from The Munsters.
•   Director, actor, stuntman, writer, and the last living Universal Monster, Ricou Browning. Best known his role as the only actor to portray the "Gill-Man" in three films, Creature From the Black Lagoon, Revenge of the Creatureand The Creature Walks Among Us. Browning also worked on Flipper, Sea Hunt, 20,000 Leagues Under the Sea, and many other films.
Other expected guests include:
•   Meet the mother and son stars from Child's Play, Catherine Hicks, Alex Vincent and Chucky himself.
•   The one and only Slim Jim Phantom, legendary drummer for the ever-popular rockabilly band The Stray Cats.
And many more to be announced leading up to the convention.
Throughout the weekend guests will enjoy vendors and haunting exhibitors that will offer the ultimate in merchandise including art, movies, toys, props, action figures, comic books, special effects, clothing, and jewelry.
All advance tickets, now on sale, are discounted. Prices increase at the door. In advance, three-day passes are $65, one day passes on Friday and Sunday are $30, and one day passes on Saturday $35. VIP Packages are $225 and include early entry to all three days, raffles, T-shirts, autograph line fast-pass, exclusive VIP party access on Saturday night with guest celebrities in attendance. Kids 10 and under are free.
Rooms are available at The Wyndham Orlando Resort for a discounted price of $121 per night through March 9. Rooms can be reserved by calling 1-407-351-2420. Mention 'Spooky Empire' for special rate.
For more information regarding the schedule and to purchase tickets, visit www.spookyempire.com/purchase-tickets.
For more information about Spooky Empire, visit www.spookyempire.com. Follow them on Facebook, Twitter and Instagram (@SpookyEmpire).
# # #
About Spooky Empire
Founded in 2003, Spooky Empire's Fall Convention has grown to become one of the largest thriller conventions and the dark side of comic con in the nation with attendance increasing each year. Designed to be THE ultimate weekend for thriller fans of all ages, the event allows guests to meet and mingle with their favorite movie and TV stars, buy amazing collectibles from hundreds of vendors and artists, see new and emerging films as well as old favorites, get tattooed by some of the best artists in the world, and take part in one of the largest Zombie Walks in the country. In May 2011, Spooky Empire introduced their Spring Convention mid-season to provide fans with even more fun in anticipation of their Fall Convention. Spooky Empire's ultimate goal is to provide memorable events for fans to return to each year, a place where they can congregate with thousands of other people with the same interests. For more information, visit www.spookyempire.com.
Spooky Empire Media Contacts:
Juliana Gutierrez, JWI PR | +1 305-991-4259 | juliana@jwipr.com
Jessica Wade Pfeffer, JWI PR | +1 305-804-8424 | jessica@jwipr.com