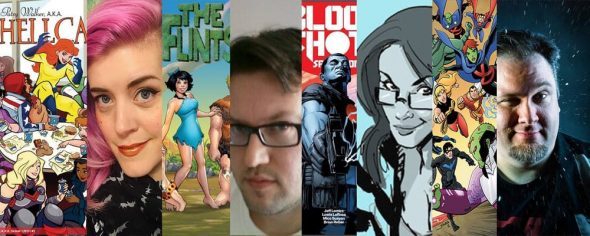 MomoCon is happy to welcome Comic Guests Kate Leth, Mark Russell, Jenvieve Broomall, and Christopher Jones to the 2018 convention on May 24-27th!
Kate Leth is a comic, animation and tweet writer. Currently working on various secrets at Hasbro as well as her own personal comics on Patreon, she is the words behind Spell on Wheels and Patsy Walker AKA HELLCAT. She has written comics for Adventure Time, Bravest Warriors, Edward Scissorhands, Fraggle Rock, Vampirella, and many more. This is her first time in Georgia. Wow!
Mark Russell is the writer behind The Flintstones, Snagglepuss, and Prez. He also wrote two books about the Bible called God Is Disappointed in You and Apocrypha Now.
Jenevieve Broomall is a popular Cover Illustrator. She has published Covers with clientele ranging from Valiant, IDW, Tales Told LLC Lady Death Series, Aspen/Big Dog Ink, Zenescope, Devil's Due Publishing, and more Independent companies spanning the last six years.
Christopher Jones is a comic book artist best known for his work on Young Justice and The Batman Strikes for DC Comics. Christopher's other work for DC Comics includes Batman '66, Justice League Adventures, Batman & Robin, Day of Judgment and the cult series Young Heroes in Love. His work for Marvel Comics includes Avengers: Earth's Mightiest Heroes and Marvel Superhero Squad.
Have you registered for MomoCon 2018 yet?  Register as soon as possible to get the best rate on your 4-day membership for MomoCon 2018. Right now it is the early bird rate of $55, before the rate increase on January 1st. Be sure to register today and save!
About MomoCon   
Founded in 2004 by Jessica Merriman and Chris Stuckey, then students at Georgia Tech, MomoCon has grown from a 700 person on campus event to the largest event in the southeast United States for fans of video games, animation, cosplay, comics and tabletop games.
With 28,300 unique and over 71,000 turnstile attendance in 2016, MomoCon is one of the fastest growing all ages conventions in the country. Fans of Japanese Anime, American Animation, Comics, Video Games, and Tabletop Games come together to celebrate their passion by costuming / cosplay, browsing the huge exhibitors hall, meeting celebrity voice talent, designers, and writers behind their favorite shows, games, and comics and much much more over this 4 day event.