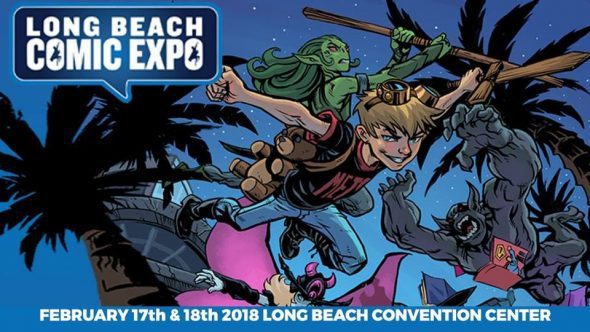 Long Beach Comic Expo 2018 has announced their programming schedule for next weekend's convention on February 17-18th! Highlights include a spotlight on Don McGregor, Strangers Things' Joe Keery, a trivia showdown with Mark Waid, animation legend Andrea Romano, and an examination of the Black Panther's big screen debut.
SATURDAY, FEBRUARY 17TH
COMICS, COMICS, COMICS! (ROOM 103AB)
11:00am – 12:00pm
Geeks Got Your Back
Anti-harassment has become a hot topic within the geek community over the last several years. Whether it is anti-harassment policies or grassroots awareness (such as Cosplay Is Not Consent), more and more geeks are looking for ways to make the geek community a better place to everyone. Come join us as we discuss ways in which we can all just be a little more excellent to each other.
12:00pm – 1:00pm
King of the Jungle: Don McGregor Spotlight
Acclaimed writer Don McGregor, whose groundbreaking work on Black Panther including titles such as JUNGLE ACTION lead to him be one of the inspirations for the current hit Marvel movie. McGregor makes a rare West Coast appearance as LBCE's first ever Guest of Honor. This spotlight panel explores more than just his Panther work, including SABRE (one of the first-ever graphic novels), RAGAMUFFINS, DETECTIVES, INC., ZORRO, JAMES BOND, and NATHANIEL DUSK!
1:00pm- 2:00pm
Fanbase Press Presents: The Impact of Latinx Creators and Readers on Comics
QUINCE is a 15-issue comics series (being released in English and Spanish) about a teenager who discovers she has superpowers at her quinceañera. COMADRES Y COMICS is a podcast hosted by three Latina women hoping to highlight the role that Latinos have in the comic book industry as creators, consumers, and fans. Join QUINCE creator Sebastian Kadlecik and COMADRES Y COMICS hosts Kristen Parraz, Sara Bazan, and Jennifer Lopez; and journalist/creator Jennifer de Guzman for a discussion and Q&A session moderated by Barbra Dillon (Fanbase Press Editor-in-Chief).
2:00pm – 3:00pm
Juicy Ink: Tori Gedvillas Spotlight
An independent illustrator who loves to spread happiness and inspire future artists through her work, Tori Gedvillas has published over 150 videos to YouTube, and amassed a following of over 240,000 on Instagram and 160,000 on YouTube. Working across a wide variety of mediums, Tori uses YouTube and Instagram to share her work and the joy her art-school education has brought her. Discover this unique talent in Tori's first Long Beach appearance.
3:00pm – 4:00pm
We Are HUMANOIDS: A 20th Anniversary Celebration
Legendary publisher Humanoids comes to Long Beach Comic Expo for the first time ever! Kick off the 20th anniversary celebration of Humanoids' first publication in the U.S. and learn about the exciting plans we have for the future. New imprints! New creators! New Year! All attendees will be entered into an exclusive raffle for a chance to win free Limited Hardcover editions of some of the hottest Humanoids titles. Moebius? Jodorowsky? How can you resist? The panel will also feature a portfolio review for aspiring creators. Ask yourself… are you a "Humanoid"?
4:00pm – 5:00pm
Shelfing Yourself – Adventures in Self-publishing
Join comics entrepreneurs Buddy Scalera, Dean Haspiel, Barbara Randall Kesel and Neo Edmund for an insider's view of the joys and perils of making your own books!
5:00pm – 6:00pm
Fanbase Press Presents: Swords, Sandals, Sorcery, and Other Worlds in Comics
A look at the "sword and sandal" genre of stories (once called "peplums") that was a huge part of popular culture in the 1950s and '60s – inspired by Ancient Greek and Roman mythologies – and has been reinvigorated in the modern day by the addition of sorcery and other-worldly settings. Fanbase Press Editorials Manager Michele Brittany is joined by creators and experts to discuss the history of the genre and explore its legacy in stories that entertain comic book readers today.
6:00pm – 7:00pm
Modern Horror: Stories that Go Bump in the Night
For over half a century, horror comics have told smart, scary, darkly witty stories by some of the best creators in the business. Now some of those creators – including Guest of Honor Don McGregor, HIGH MOON's David Gallaher and Steve Ellis, and writer Shannon Eric Denton (THE X-FILES)– take part in a ghastly discussion of a genre that includes ATTACK ON TITAN, THE WALKING DEAD, HELLBOY, and more! It might just give you nightmares! Parental discretion is advised.
MAIN STAGE (ROOM 104A)
10:00am – 11:00am
STRANGER THINGS' Joe Keery VIP Event
An exclusive Q&A event with Long Beach Comic Expo special guest Joe Keery (STRANGER THINGS). *VIP ticket required*
11:00am – 12:00pm
Cosplay Comedy
Cosplay Comedy is a unique comedy show where stand-ups perform their sets in costume and in-character! See your favorite heroes and villains say all the hilarious things you WISH they'd say in pulp and on the screen. Quite possibly the nerdiest and most distinctive comedy show in LA! Featuring some of the geekiest comics from the Los Angeles comedy scene!
12:00pm – 1:00pm
Bat in the Sun Presents!
Take part in a live Q&A with the cast and crew of Bat in the Sun as they talk about upcoming projects including SUPER POWER BEAT DOWN and NINJAK VS. THE VALIANT UNIVERSE!
1:00pm – 2:00pm
Plus-Size Cosplay: Helpful Do's and Don'ts
Learn about proper costume fitting, design, and styles for plus-sized cosplayers, including poses that better work for plus-size people and how to flash up designs and costumes to hide embarrassing areas. We'll be talking about the overall cosplay designs for all types of larger-sized cosplayers.
2:00pm – 3:00pm
Rise of the On-Screen Black Superhero
Are BLACK PANTHER and BLACK LIGHTNING the new normal or just a momentary trend? And what about other races and ethnicities and the "white washing" seen in recent superhero and science-fiction movies? Join writers Matt Wayne (CANNON BUSTERS), Evan Narcisse (RISE OF THE BLACK PANTHER, io9), and Marc Bernardin (CASTLE ROCK, co-host of FATMAN ON BATMAN) in a thought-provoking panel led by journalist Jennifer de Guzman.
3:00pm- 4:00pm
Andrea Romano: Director of a Thousand Voices
An interactive panel with legendary voice and casting director Andrea Romano, an eight-time Emmy Award winner whose decades-long career includes BATMAN: THE ANIMATED SERIES, THE LEGEND OF KORRA, JUSTICE LEAGUE UNLIMITED, TEEN TITANS, PINKY AND THE BRAIN, and more!
4:00pm – 5:00pm
Ask Mark Waid EVERYTHING
More than just a trivia panel, more than just a spotlight… or is it both? Award-winning comics writer Mark Waid (ARCHIE, AVENGERS, CAPTAIN AMERICA, KINGDOM COME, THE FLASH, SUPERMAN: BIRTHRIGHT, and more) will answer any question, from obscure Silver Age Superman trivia to "where do you get your ideas?"
5:00pm – 6:00pm
Am I Allowed To Like ANYTHING? Loving What You Love in the Golden Age of Geek
For fans of superheroes, science fiction, animation, and cosplay, it's a golden age. But hand-in-hand with geek domination of the popular arts has come a very hostile environment for being openly enthusiastic about your favorite things. You thought JUSTICE LEAGUE was better than THOR: RAGNAROK? Can't wait to see a Quentin Tarantino STAR TREK? Like Superman better without the red shorts? Join writers and artists (and fellow fans) Mark Waid, Marc Bernardin, Ramon Gil, and Logan Lubera for a guilt-free celebration of the things LBCE and its attendees love most.
7:00pm
Cosplay Contest!
SUNDAY, FEBRUARY 18TH
COMICS, COMICS, COMICS! (ROOM 103AB)
11:00am – 12:00pm
Hey! Kids' Comics!
The creators of some of today's best-known comics for kids (of all ages) take part in a memorable LBCE panel. MY LITTLE PONY's Tony Fleecs, recent Eisner Award nominee Norm Harper (RIKKI), and Director of Programming Ivan Cohen (TEEN TITANS GO!) talk about telling stories for some of comics' most hard-to-please readers.
12:00pm – 1:00pm
BLACK PANTHER: The Writers' Room
With the release of BLACK PANTHER the week before Long Beach Comic Expo bringing the King of Wakanda to new prominence, we've gathered some of the character's top writers – Expo Guest of Honor Don McGregor (JUNGLE ACTION and the new BLACK PANTHER ANNUAL), CREED co-screenwriter Aaron Covington (BLACK PANTHER: LONG LIVE THE KING), and Evan Narcisse (RISE OF THE BLACK PANTHER) – to talk about the excitement and challenges of telling stories of a character whose prominence and presence have gone beyond comics alone.
1:00pm- 2:00pm
To the Stars! Science Fiction
Creators with one foot in both worlds discuss the differences between creating science fiction for comic book projects and other media. With Barbara Randall Kesel, Marc Bernardin, Jennifer DeGuzman, Cecil Castellucci, and David Gallaher.
2:00pm – 3:30pm
Storytelling on the Page
The breakthrough panel from last year's New Jersey Comic Expo makes its Long Beach debut! Top comic artists work from the same script to demonstrate – in real time – how to break down a comic book story. Gain new insights into how to both write and draw a page from beginning to end. Artists Scott Koblish (DEADPOOL), Drew Johnson (WONDER WOMAN, MIDNIGHT SOCIETY: THE BLACK LAKE), and Steve Ellis (THE ONLY LIVING BOY) work from a script by Frank Tieri (HARLEY QUINN). Hosted by Buddy Scalera (DEADPOOL) of Comic Book School. Sponsored by Marvy/Uchida markers.
MAIN STAGE (ROOM 104A)
11:30am – 12:30pm
How to Get Started in Cosplay at 30, 40, or 50 Years Old
How do I get started in this great hobby? How do I find my character? Where do I find supplies? Steve Gonzales is a 60-year-old cosplayer who has won many awards for his cosplay and wants to share his experience as an older adult starting and creating cosplays and having fun!
12:30pm – 1:30pm
The Webcomics Advocates Present: The Webcomics Gathering
Join a group of experienced web-comics creators – including Dean Haspiel (THE RED HOOK, WAR CRY) – as they celebrate and discuss the exciting world of webcomics! Any webcomic creators in the audience will get thirty seconds to promote their comic to the crowd. All creators and fans are welcome!
1:30pm – 2:30pm
Politics and Pop Culture
How do politics and popular culture depend on each other? An in-depth discussion explores political satire, comedy sketches, and the world of politics and explores what the interconnections mean for government and pop culture going forward.
2:30pm- 3:30pm
Fanbase Press Presents: STAR WARS: Themes of Legacy
Long ago on a desert planet far, far away, audiences were first introduced to Luke Skywalker and the Jedi legacy that had been passed down through generations. This hero's journey and its long-lasting impact have resonated with audiences on a grand scale over the past forty years in movies, television, books, comics, and more. Writers from the STAR WARS universe – among them Cecil Castellucci (MOVING TARGET: A PRINCESS LEIA ADVENTURE), legendary artist Michael Golden (who also wrote the recent STAR WARS #38), Chris Thorne (TOPPS' STAR WARS: THE LAST JEDI TRADING CARDS) and Kevin Wetmore (EMPIRE TRIUMPHANT: RACE, RELIGION AND REBELLION IN THE STAR WARS FILMS) – join Fanbase Press Editorials Manager Michelle Brittany for a wide-ranging discussion.
3:30pm – 4:30pm
Cosplay Is not Consent
A panel led by sex-educator Michelle LaBelle featuring burlesque performer Tas Deville, cosplayer The Lady Kaylah, and cosplayer and fashion designer Arilith. This panel will discuss proper personal etiquette while at a convention interacting with cosplayers as well as covering consent awareness/protocol and understanding for all humans out in their personal lives. The world is changing: learn how to support your friends and be part of the solution and not the problem. *Trigger Warning* topics covered will be thorough and potentially graphic.
Long Beach Comic Expo is an annual event held at the Long Beach Convention Center each spring. It's a celebration of comic books and pop culture that showcases the exceptional works of talented writers, artists, illustrators and creators of all types of pop culture. At Long Beach Comic Expo you'll find exhibitors promoting and selling all types of related products, as well as entertaining and educational programs, guest signings and meet & greet sessions with celebrities. For more specific information about the show, please check out the FAQ. Long Beach Comic Expo is a MAD Event Management, LLC production.
Visit our website for more information: longbeachcomicexpo.com