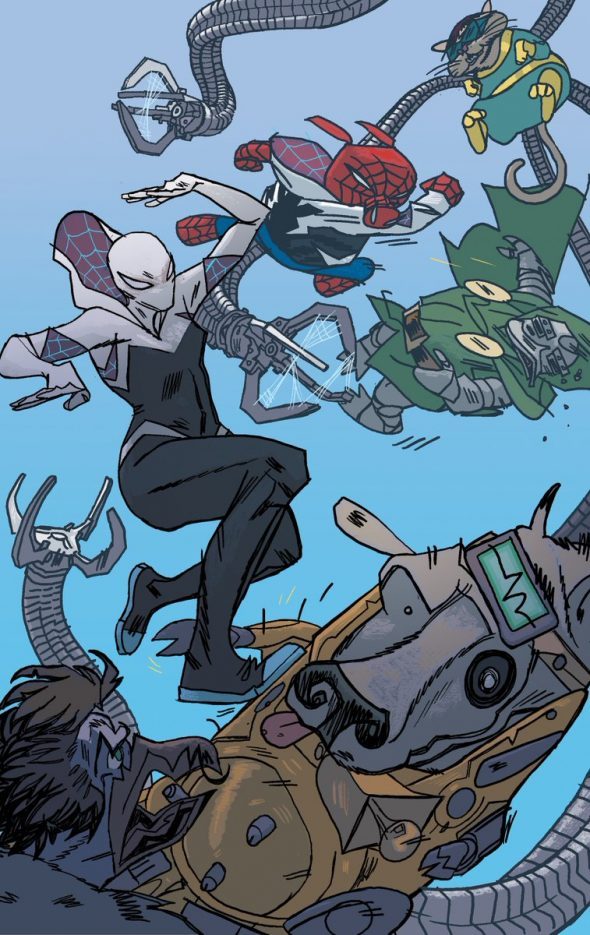 Press Release:
Writer/Artist JASON LATOUR, co-creator of Spider-Gwen and Southern Bastards, has been added to the guest list for this weekend's Charlotte MiniCon. He and colorist Rico Renzi will be signing at the Out of Step Arts booth from 2:30 – 3:30 PM to benefit artist Chris Visions' recovery from eye surgery (details on how to contribute at the Out of Step website).
Tickets are available at the link…
Previously announced guests include:
Al Milgrom
Thomas Boatwright
Chad Bowers
Wes Brooks
Chuck Brown
Buno Books
Bridgit Connell
Mason Dickerson
Eryk Donovan
Bo Fader
Stephen Green
Sanford Greene
John Hairston Jr
Dustin Harbin
Brockton McKinney
Drew Moss
Eraklis Petmezas
Pat Quinn
Rico Renzi
Budd Root
Hoyt Silva
Chris Sims
Andy Smith
Brian Stelfreeze
Matt Wilson (colorist)
Matt D Wilson (writer)
& Many More!
2018 Charlotte MiniCon Exhibitor List

501st Carolina Garrison
Allen's Comics
Apocalypse Comics
Basement Comics
Big Ed's Toys
Brett Carreras
CBCS – Comic Book Certification Services
David Burns
David Shankle
Eddie Flowers
Heroes & Dragons
Jason Hamlin
Karl Terrana
Klingon Assault Group
Memories Lost and Found
Murph's Comics
Steve Smith
TNT Comics
2018 ARTISTS ANNEX
Chad Blevins
Josh Bowron
Bernie Cooke
Max Currie
Garrett Faith
Luke Foster
FRANK Comics
John Hartness
Marshall Hinson
Aristides Iliopoulos
Erik Klaus
James Maxey
Jonathan Reyes
Joshua & Diana Robertson
Popcycled
Rumble & Roar Wands
Carolina Caricatures
Isaiah Thomas
Wolly Vinyl
Chris Williams
Colby Ziglar
Charlotte MiniCon is Charlotte's longest running comic convention and we stay true to our roots! A high concentration of vintage comics and great comic creators! It's all brought to you by Heroes Aren't Hard to Find the same folks who put on Heroes Convention. It will be a great time for the whole family!
Grady Cole Center
310 N Kings Dr, Charlotte, NC 28204
(704) 336-2884