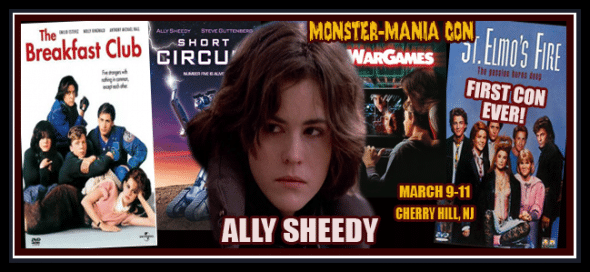 We are VERY excited to announce that ALLY SHEEDY will be joining us for her FIRST CON EVER appearance at MONSTER-MANIA CON 39 the weekend of MARCH 9-11th in Cherry Hill, NJ!
ALLY starred in films that defined a generation. ALLY is easily recognized for her role as ALLISON RENYOLDS in the 1985 JOHN HUGHES classic coming of age comedy-drama THE BREAKFAST CLUB. The stars of the film were dubbed "The Brat Pack" by the media. THE BREAKFAST CLUB is considered to be one of the very best high school films and was selected by the Library of Congress to be preserved in the National Film Registry.
Also in 1985 ALLY starred in Joel Schumacher's ST. ELMO'S FIRE. ALLY played the role of LESLIE HUNTER in the film, making this the second popular film ALLY starred in within the same year. The next year ALLY played the lead role of STEPHANIE SPECK in director John Badham's sci-fi comedy SHORT CIRCUIT. Previously ALLY had worked with John Badham's popular cold war sci-fi film WARGAMES. In 1987 ALLY again had the lead role in a comedy, starring as the character JESSE MONTGOMERY in MAID TO ORDER.
ALLY has starred in many film and television projects including the television horror film THE HAUNTING OF SEACLIFF INN, BAD BOYS, ONLY THE LONELY, HOME ALONE 2: LOST IN NEW YORK, MACON COUNTY JAIL, PSYCH, X-MEN: APOCALYPSE, LITTLE SISTER, RED SHOE DIARIES and many, many more!
Please join us in welcoming ALLY SHEEDY to her FIRST CON EVER appearance with us at MONSTER-MANIA CON 39 in Cherry Hill, NJ!
Please LIKE and SHARE this announcement. For tickets be sure to visit our website at www.monstermania.net