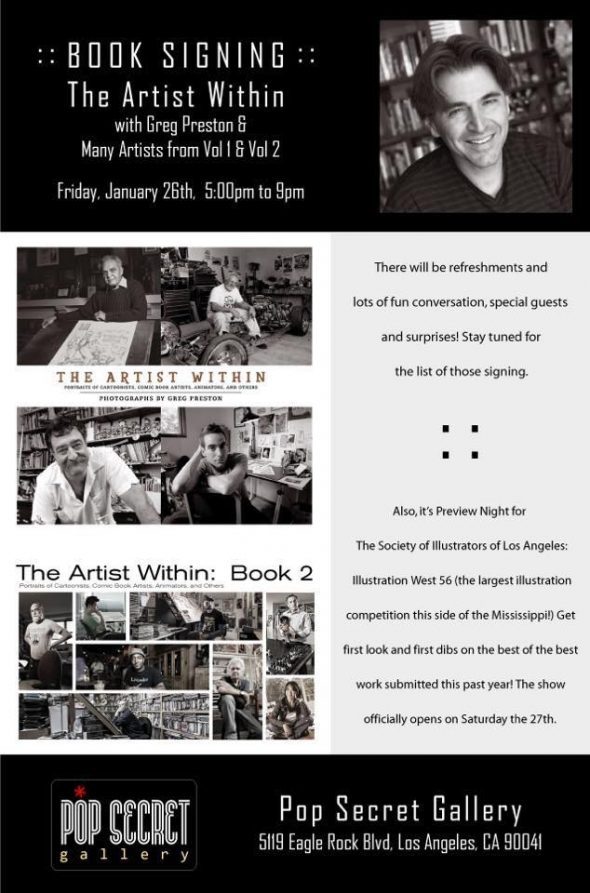 Pop Secret Gallery welcomes Greg Preston and a huge cast of creatives showcased in both volumes of The Artist Within books on Friday, January 26th from 5:00 – 9:00 PM! Meet & greet and get your books signed by everyone in attendance!
Confirmed Guests include: Dave Willardson, Jeff Keane, Bill Sienkiewicz, Bill Morrison, Bobby London, Sharon Sampsel, Michael Dooley, Scott Gandell, Stan Sakai, Scott Shaw, Stephen Silver, Craig Elliott, Claire Keane, Dean Yeagle, Chris Bailey, Chad Frye, Jake Rowell, Chris Sanders, Kyle Lambert.
Also, The Society of Illustrators of Los Angeles' Illustration West 56 Show is up for Preview Night – check out all the best of the best work in 10 categories from around the globe – without the opening night crowds!
Pop Secret Gallery
5119 Eagle Rock Blvd, Los Angeles, CA 90041
(626) 262-3909