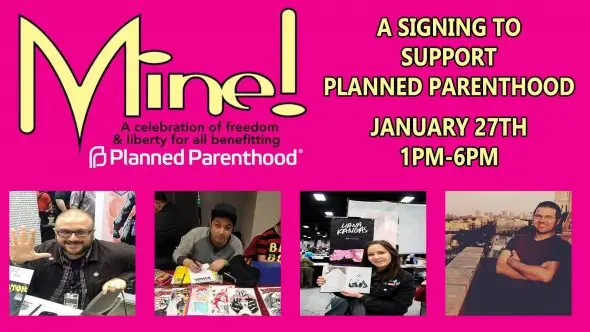 Press Release:
East Side Mags is a proud community sponsor and we're super happy to support Planned Parenthood – a rad organization that provides much needed medical attention to the communities that they serve!
A ton of creators (some we know, some we hope to meet soon) have come together and put an anthology together called Mine! in support of Planned Parenthood with profits going to support the organization. We were quick to jump on the Kickstarter when we saw it and now we're buying additional copies so we can bring you a handful of the amazing minds that contributed to this much-required reading material!
Hang out with Dave Kelly (Tales of the Night Watchman, So What? Press), Matt Miner (Gwar Orgasmageddon, Toe Tag Riot), Liana Kangas (Independent comic artist), Fabian Lelay (Jade Street Protection Services), and Jude Vigants (Tales of the Night Watchman).
Join us from 1pm-6pm on Saturday, January 27th! Writers and artists will be signing copies of the book that we'll have for sale and artists will be sketching for customers too! Don't miss this one-of-a-kind, East Side Mags event!
East Side Mags
7 S Fullerton Ave, Montclair, NJ 07042
(862) 333-4961