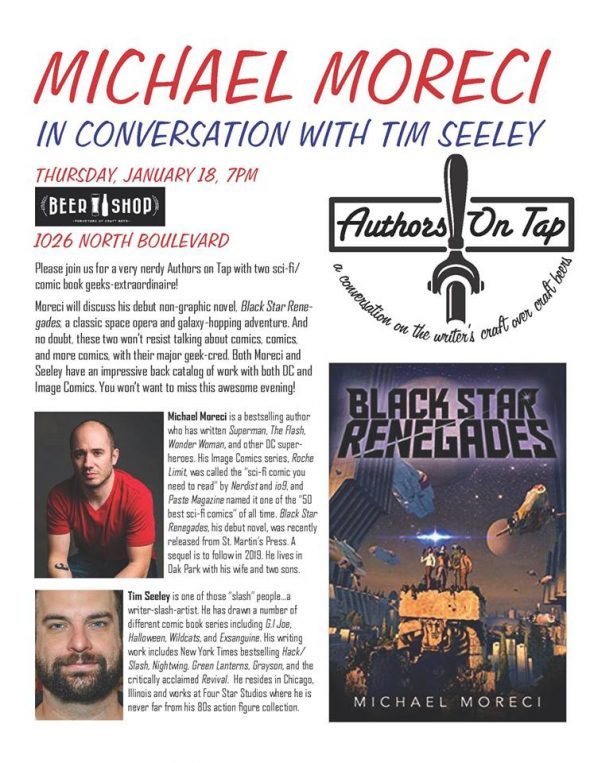 Michael Moreci appears in conversation with Tim Seeley at BeerShop on Thursday, January 18, 2018 at 7:00 PM.
Moreci will discuss his debut non-graphic novel, Black Star Renegades, a classic space opera and galaxy-hopping adventure. And no doubt, these two won't resist talking about comics, comics, and more comics, with their major geek-cred. Both Moreci and Seeley have an impressive back catalog of work with both DC and Image Comics. You won't want to miss this awesome evening!
Michael Moreci is a bestselling author who has written Superman, The Flash, Wonder Woman, and other DC super-heroes. His Image Comics series, Roche Limit, was called the "sci-fi comic you need to read" by Nerdist and io9, and Paste Magazine named it one of the "50 best sci-fi comics" of all time. Black Star Renegades, his debut novel, was recently released from St. Martin's Press. A sequel is to follow in 2019. He lives in Oak Park with his wife and two sons. 
Tim Seeley is one of those "slash" people…a writer-slash-artist. He has drawn a number of different comic book series including GI Joe, Halloween, Wildcats, and Exsanguine. His writing work includes New York Times bestselling Hack/Slash, Nightwing, Green Lanterns, Grayson, and the critically acclaimed Revival. He resides in Chicago, Illinois and works at Four Star Studios where he is never far from his 80s action figure collection.
BeerShop
1026 North Blvd, Oak Park, IL 60301
(847) 946-4164