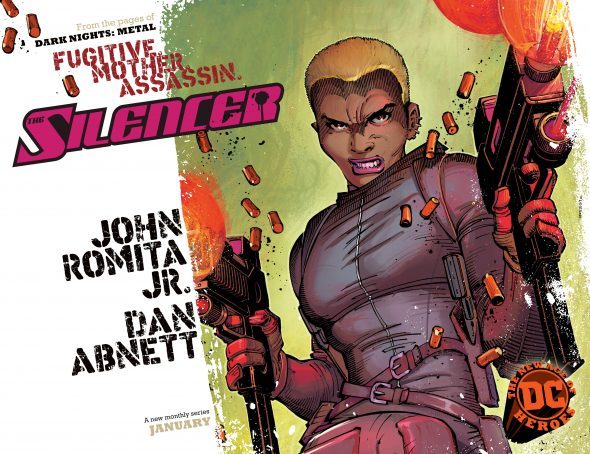 Writer Dan Abnett will be signing THE SILENCER #1 at the Forbidden Planet London Megastore on Saturday 3rd February from 1:00 – 2:00 PM.
'CODE OF HONOR' part one!
She's one of the DC Universe's deadliest assassins and you've never heard of her. Super-strong, highly trained, armed with devastating and stealthy metahuman abilities, the Silencer is virtually invincible. Or at least she was.
After decades as Leviathan's chief assassin, Honor Guest put in her time and managed to get out with her skin intact. Now she lives a normal life with a normal family in a normal house on a normal street.
But the past has come back to haunt her in the form of her old employer and a deadly new mission…and Talia Al Ghul won't take no for an answer.
Dan Abnett is a bestselling author and an award-winning comic book writer. He has written over fifty novels, and his 2008 run on The Guardians of the Galaxy for Marvel formed the inspiration for the blockbuster movie. He is a regular contributor to 2000AD and is the writer on Aquaman, The Titans and Earth-2 for DC Comics.
Forbidden Planet London Megastore
179 Shaftesbury Avenue, London, WC2H 8JR
0207 420 3666