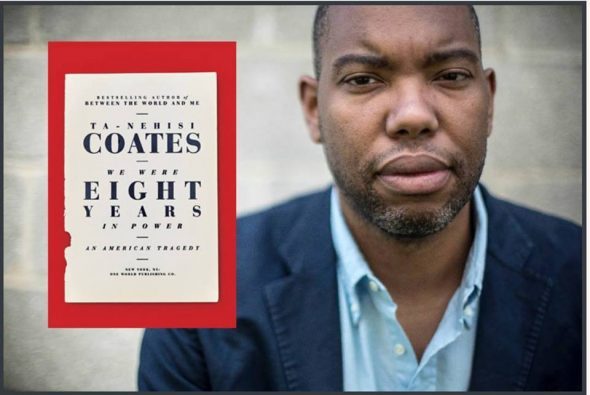 Press Release:
Books & Books and Miami Book Fair are proud to present An Evening with Ta-Nehisi Coates on Thursday, January 11, 2018 at 7:00 PM in MDC's Wolfson Campus Chapman room. Tickets are $30 per person and include a copy of the book. Get tickets at the link!
The conversation will be moderated by Nadege Green, who covers social justice issues for WLRN. The event is a special presentation of Miami Book Fair and Books & Books who once again join forces to bring the South Florida community an unforgettable encounter with leading-edge authors of note.
In 2008, National Book Award-winning author Ta-Nehisi Coates went from believing that a black president was impossible, to being challenged by the sudden prospect of one. In his new book, WE WERE EIGHT YEARS IN POWER: An American Tragedy, Coates recalls the moment: "I remember how Obama caused me to question myself and my basic relationship with my country. All my life I had seen myself, and my people, backed into a corner. Had I been wrong?"
To answer that question, WE WERE EIGHT YEARS IN POWER employs the same erudite storytelling, self-reflection and unsparing honesty that propelled Between the World and Me into the cultural zeitgeist and led Toni Morrison to hail it as "required reading." Part memoir and part polemic, Coates powerfully examines the threads between the unprecedented election of Barack Obama and the vicious backlash that fueled the election of Donald Trump, a man Coates argues is America's "first white president." He does so through his intimate and revealing perspective—the point of view of a young writer who begins his journey in an unemployment office in Harlem and ends it in the Oval Office, interviewing the President of the United States.
More than an analysis of our first black president, WE WERE EIGHT YEARS IN POWER is a personal narrative that examines the symbiosis of Obama's influence on American culture, Coates's intellectual and professional growth, and the inspiring new voices, ideas, and movements that emerged together over this period. This masterwork is comprised of eight fresh essays, in which Coates revisits each year of the Obama administration through his own immersive experiences and observations, and nine iconic essays previously published in The Atlantic, including "Fear of a Black President," "The Case for Reparations," "The Black Family in the Age of Mass Incarceration," and more.
Miami Dade College – Wolfson Campus
300 NE 2nd Ave, Miami, FL 33132
(305) 237-3000