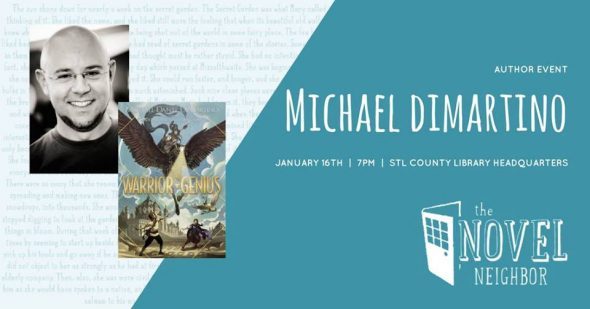 Michael Dante DiMartino appears at the St. Louis County Library on Sunday, January 14, 2018 at 7:00 PM to present and sign his new novel WARRIOR GENIUS, the second installment of his Geniuses series!
In twelve-year-old Giacomo's Renaissance-inspired world, art is powerful, dangerous, and outlawed. A few artists possess Geniuses, birdlike creatures that are the living embodiment of an artist's creative spirit. Those caught with one face a punishment akin to death, so when Giacomo discovers he has a Genius, he knows he's in serious trouble.
Michael Dante DiMartino is a graduate of the Rhode Island School of Design and the co-creator of the award-winning animated Nickelodeon series Avatar: The Last Airbender and its sequel, The Legend of Korra. He lives in Los Angeles with his wife. The Rebel Genius series is his debut prose work.
St. Louis County Library
1640 S. Lindbergh Blvd, St. Louis MO 63131
(314) 994-3300