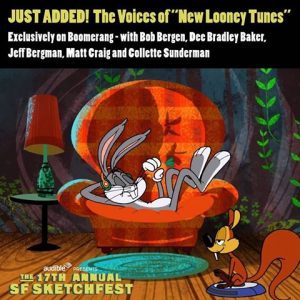 Bob Bergen, Dee Bradley Baker, Jeff Bergman, Matt Craig, and Collette Sunderman appear at the Castro Theatre on Saturday, January 20, 2018 at 1:00 PM.
Press Release:
The voice cast of New Looney Tunes takes the Castro Theatre stage for an amazing afternoon! Join Bob Bergen (Porky Pig), Dee Bradley Baker (Daffy Duck), Jeff Bergman (Bugs Bunny) and producer Matt Craig for a live episode reading, directed by Collette Sunderman. Then marvel at the animated version of that episode, followed by a fun and informative Q&A. The New Looney Tunes streams exclusively on the Boomerang premium subscription service, available on Android, iOS, desktop, Apple TV, Amazon Fire TV, Amazon Kindle Fire Tablet, Roku and Chromecast.
About New Looney Tunes:
The hilarious, heroic and mischievous Bugs Bunny you love is back! Follow Bugs as he stars in a new series consisting of slapstick comedic shorts that find the iconic, carrot-loving rabbit matching his wits against classic characters, such as Theodore "Tasmanian" Devil, Wile E. Coyote and Yosemite Sam. Along the way, Bugs will encounter brand-new foes but he'll have some help from new friends like Bigfoot and Squeaks the Squirrel! Catch it on Boomerang, the streaming service with all the best cartoons, including all new exclusive versions of  Looney Tunes, Scooby Doo, Tom and Jerry, and more.
Presented by the Cartoon Art Museum and SF Sketchfest! It's the city's greatest comedy festival, with a variety of sketch and improv, film and television tributes and reunions, solo performers, podcasts and stand-up comedy performers. See the greatest names live and in person!
Tickets available at the link…
Castro Theatre
429 Castro Street San Francisco, CA 94114
(415) 621-6120