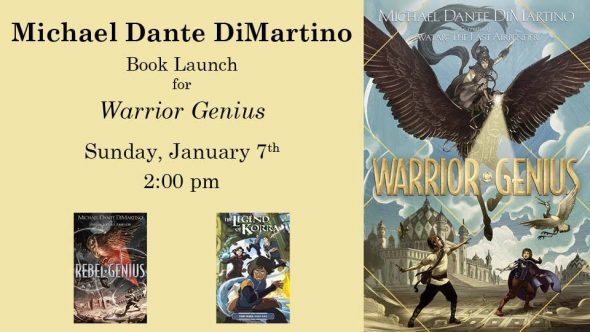 Michael Dante DiMartino, co-creator of the hit animated series Avatar: The Last Airbender and Legend of Korra, appears at Once Upon a Time Bookstore on Sunday, January 7, 2018 at 2:00 PM to present and sign his new novel WARRIOR GENIUS, the second installment of his Geniuses series!
The event will consist of a short presentation by Michael with a Q&A followed by a book signing. Michael DiMartino fans are welcome to bring their copies of his books from home. However, you can only get this live and in-person experience from Once Upon A Time and so priority will be given to those who purchase a book from our store. 
About the book: In Warrior Genius, author Michael Dante DiMartino delivers rich settings, memorable characters, and edge-of-your-seat action, just as he did in his hit animated show Avatar: The Last Airbender. Fans will be thrilled with this new adventure!
It has been years since Geniuses–creatures that channel their owners' creative energy–were banished from Zizzola. But a new generation of artists and their bird-Geniuses has been training in secret. Led by Giacomo, a young orphan with promising talent, they set out to track down the Sacred Tools that could hold the power to overthrow the ruthless emperor, Nerezza.
Once Upon a Time Bookstore
Montrose Shopping Park
2207 Honolulu Ave, Montrose, CA 91020
818-248-9668